A hot night was experienced by some areas in Jordan, protesting the high fuel prices, to return to calm after the Jordanian Public Security Directorate announced the death of Colonel Abdul Razzaq Abdel-Hafez Al-Dalabeh was shot by terrorists in the Al-Husseiniya area in Ma'an Governorate, south of Jordan.
• Who is Colonel Dalabeh?
Colonel Abd al-Razzaq al-Dalabeh was born on May 15, 1977. Before his death, he held the position of deputy police officer in Ma'an Governorate and holds the rank of colonel in Public Security. He resides with his family in Jerash Governorate. He studied secondary stages at Zaid bin Harith School in 1996, while he started in He studied law at Mutah University in 2000, and enrolled in a master's degree in public international law from July 24, 2013 to June 2015.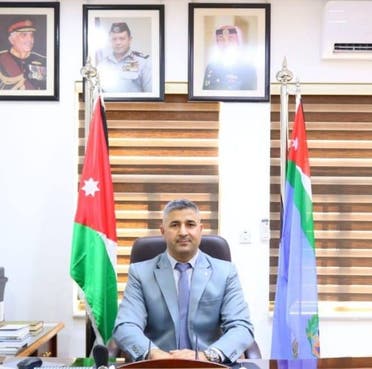 Colonel Al Dalabeh obtained a Ph.D. in Public Law, and his last position was Deputy Police Director of Ma'an Governorate. He held many positions and worked in different places in the Jordanian Public Security Directorate. "The Strategic Perspective of the International Criminal Court".
He also owns scientific findings from research published in peer-reviewed journals, such as "The Reality of Distance Learning in Teaching Science and English in Light of the Corona Pandemic," and "The Impact of Social Media on the Spread of Crime."
Colonel Abdul Razzaq Al Dalabeh worked at the United Nations Mission in Darfur from February 26, 2016 to February 27, 2017. He also held the position of Deputy Dean and Assistant Professor at the Prince Al Hussein Bin Abdullah II Academy for Civil Protection.
Colonel Dalabeh has been married since June 7, 2003 and has four children: three girls and one son, Muhammad.
• Obituary for a friend of the profession
The media spokesman for the Jordanian General Security, Colonel Amer al-Sartawi, was keen to mourn his colleague, the deputy director of Ma'an police, Colonel al-Dalabeh, with whom he was associated at and after the university, describing him as a religiously committed young man who was distinguished in work, and who died after being shot in the head.
Colonel Al-Sartawi wrote through his official account on the social networking site: "The martyr Abd Al-Razzaq Al-Dalabeh is under the protection of God … We do not commend anyone before God … I was an example of morals … for the religiously committed and distinguished young man, Abd Al-Razzaq (Abu Muhammad), the son of my role, we associate at university and afterward.
Colonel Al-Sartawi continued, saying: "Abdul-Razzaq was not chosen with us, but he joined us a few days later when one of the students refused to continue with military training, so he was summoned immediately to join the university, as if the path of martyrdom and heroism was asking for him… On his first day, we saw that young man coming From the village of al-Kafir, full of confidence and politeness, and from the first moment he emerged due to his physical fitness and commitment, which he maintained until today, the day of his martyrdom. Abu Muhammad, to God's mercy, will remain an example of discipline and morals.
• Last post
Activists on social media circulated a post published by the late Colonel Al-Dalabeh after announcing the news of his death.
The last thing that the martyr al-Dalabeh published was verses of poetry from the poem of Abi al-Baqaa al-Randi from Lamentations for Andalusia, which he composed after the fall of the last Muslim lands in Andalusia:
For everything if there is a decrease, do not be deceived by the good life of a person
These are the things as countries witnessed them.
And this home does not keep anyone and does not last as it is
Eternity inevitably tears away every venomous woman if she grows honorable men and women
And every sword ends for annihilation, even if it was the son of Dhi Yazan, and the scabbard is two scabbards.
Where are the kings with crowns from Yemen, and where are their garlands and crowns?
And where is Shaddad's rule in Iram, and where is Sassan's rule in Persia?
And where is what Qarun possessed of gold, and where is Ad, Shaddad, and Qahtan?
An irreversible matter befell everyone until they passed away, and it was as if the people were what they were
The Jordanian Public Security Directorate affirmed that it continues its work to preserve the security of the homeland and protect its citizens, and we will strike with an iron fist against anyone who attempts to attack lives and public property and threatens the security of the homeland and the citizen.
The Public Security Directorate stressed that while it guarantees the protection of freedom of opinion and peaceful expression, it will deal in accordance with the provisions of the law and by using appropriate force with anyone who commits acts of rioting and vandalism, wherever they are, and will not allow criminals and vandals to exploit this circumstance to harm the lives of citizens and terrorize them.