Masked Norouzi
BBC Afghan Section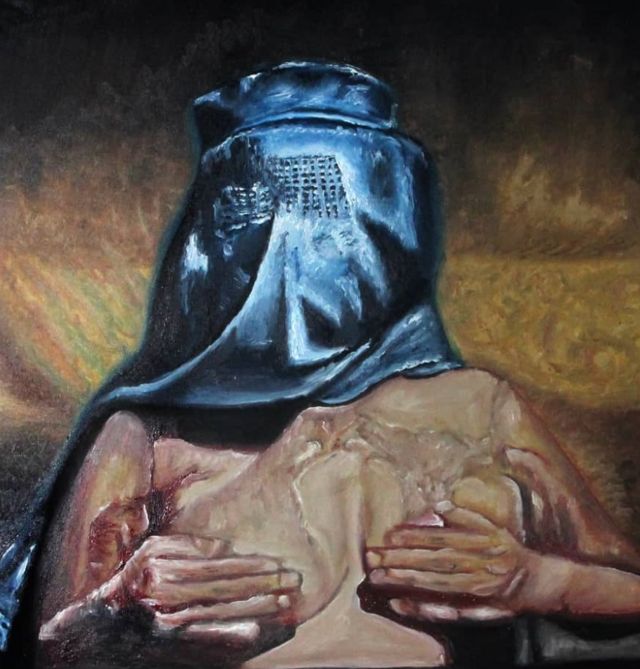 "I took some of my paintings out of the frames, got rid of the frames, and hid the paintings."
This is how a desperate artist in Afghanistan tried to protect her paintings.
Shajia heard that the Taliban were conducting house searches.
Some people destroyed their paintings, statues, musical instruments, and even their books.
Shajia has kept some paintings, depicting flowers and nature, hanging on the walls.
She didn't think the Taliban would care about her, but she was wrong, they confiscated her.
The artist still lives in Afghanistan, so we are keeping her identity a secret for her safety.
The features of Shajia's paintings are tinged with cruelty and an atmosphere of terror, but they contain intimacy. It depicts the rigors of Afghan women's lives in its smallest detail.
Under the Taliban's strict interpretation of Islam, painting the human face is forbidden, so Shajia has to hide her paintings.
When asked by the BBC about the matter, officials in Kabul denied having seized art in this way.
"There were reports in Herat province a few months ago that something like this happened. 99 percent of Afghans are Muslims, praise be to God. We drew their attention to the teachings of Islam and they accepted it," said Muhammad Sadiq Akif, a spokesman from the Ministry of Promotion of Virtue and Prevention of Vice.
The Taliban closed music schools, and instructed radio and television stations not to broadcast music or comedy programmes, and to replace them with religious poetry and pro-Taliban messages.
They believe that Western arts are a way to spread corruption, although a spokesperson for the Ministry of Information said that they celebrate women's art and handicrafts on International Women's Day.
Shajia describes conditions for women under Taliban rule as "hell on earth".
"Art is created by love. It is formed in the heart and mind of the artist. There is no place for such a beautiful thing in a country ruled by these people," she says.
Afghan women artists have always wanted to challenge the stifling patriarchal traditions that dominate their lives. Shajia's work is particularly dark and expresses bitterness.
It was part of an exceptional artistic movement that began to flourish in Afghanistan over two decades, and was stifled in 2021 after the return of the Taliban to power.
Shajia used to frequent a women's art center in Kabul to draw, acquire new skills, and meet young artists, but all women's clubs have closed down.
Shajia says, "Censorship kills the artist's imagination, and this is a disaster for me and for the rest of the artists."
Education is now prohibited for Afghan women, and they are also prevented from practicing most professions, and from raising their voices in public, and they cannot leave the house except with the escort of a Mahram.
With the deepening economic crisis, Shajia can no longer obtain paints and paintbrushes, so she sketches in secret to keep the spirit of art alive within her.
But Shajia is motivated by a larger goal, to keep the spotlight on women.
"One of the artist's tasks is to absorb and express pain, as well as to see the lack of equality and lack of respect for human rights in society. I want to express what women in Afghanistan are going through," says Shajia.
"We are tired of all this oppression," she added.
Shajia has the full support of her family and husband, which is rare in Afghan society.
"In addition to my mother, father, sister and brother, my husband has always been my biggest supporter and advocate," she says.
The Taliban government can ban art, but Shajia believes they cannot prevent female artists from documenting women's resistance.
Shajia receives the Taliban's statements discreetly.
She says, "If I draw a woman in a burqa carrying a copy of the Qur'an, I will be allowed to display it, but I will continue to fight for freedom through my paintings."