After Germany announced the supply of "Leopard 2" tanks to Ukraine, US President Joe Biden confirmed that Washington had decided to supply Kyiv with 31 M1 Abrams tanks. Today, Wednesday, speaking at the White House, Biden said: "I announce to you today that the United States will send 31 Abrams tanks to Ukraine, (this number) is equivalent to one Ukrainian (tank) battalion."
Delivery will take time.
"It will take time for these tanks to be delivered to the battlefield," he added. "At the same time, the United States will start training the Ukrainian army as soon as possible."
"What we all want is an end to this war, but on just and lasting terms," ​​he stressed.
"Not a threat to Russia"
He also stressed that the Western tanks that the United States and its allies, led by Germany, decided to provide Ukraine with to counter the Russian bombing, "do not pose an offensive threat to Russia."
Biden said that sending the American Abrams tanks and the German Leopard to Ukraine falls within the framework of "the commitment of countries around the world, led by the United States, to help Ukraine defend its sovereignty and territorial integrity… This matter does not constitute an offensive threat to Russia."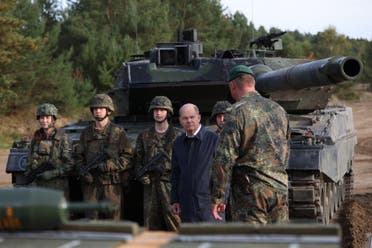 Leopard tank (AFP)
Intensifying support for Ukraine
For his part, British Prime Minister Rishi Sunak called on Western allies, on Wednesday, to "intensify" their support for Ukraine in the face of Russia, after their "collective and decisive" decision to give Kyiv modern tanks.
In a phone call with the leaders of the United States, France, Germany and Italy, the prime minister said it was now clear that Russia was on the defensive and that international partners had a window to accelerate efforts to secure lasting peace in Ukraine.
And the British government presidency added in a statement that Sunak "called on the allies to intensify their support in the coming weeks and months."