The Ukrainian Ministry of Defense confirmed, on Thursday, that its forces are advancing in… Kherson The south of the country, and regained control of 41 regions in it.
"We are storming Kherson with caution because there are remnants of Russian forces in the city," Yury Sak, an advisor to the Ukrainian Defense Minister, said in an interview with Al-Arabiya / Al-Hadath.
He also indicated that Russia wants to negotiate the repositioning of its forces and their lack of readiness for the battle, but he continued, "We will not give up the sovereignty of our territories."
In addition, an adviser to the Ukrainian Defense Minister said that there was no evidence of Russia's intention to use nuclear weapons, adding, "But we are ready."
at least a week
For his part, Ukraine's defense minister said Thursday that Russia's withdrawal of its forces from the southern city of Kherson would take at least a week and that winter would slow operations on the battlefield, giving both sides an opportunity to regroup.
Oleksiy Reznikov told Reuters that Russia has 40,000 soldiers in the Kherson region and still has forces in and around the city and on the right bank of the Dnipro River.
He also added, "It is not easy to withdraw these forces from Kherson in a day or two. It will take at least a week."
strong hit
The Ukrainian army had announced earlier today that its forces had recaptured 12 towns in the Kherson region, without definitively confirming whether the Russian forces had completely withdrawn from the city.
It is noteworthy that Moscow's loss of Kherson, which is the first major Ukrainian city to fall into its hands since the outbreak of the conflict on February 24, will constitute a strong blow to it and the prestige of its army.
Especially since the city is one of the four regions that the Kremlin announced in late September (2022) its annexation.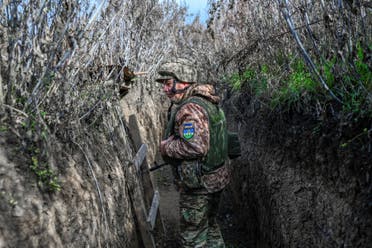 Ukrainian soldier near Kherson (archive – AFP)
Its geographical location also bears special importance, as the region is located on the borders of the Dnepropetrovsk and Nikolaev regions, and it has a land border with Crimea in the south, while overlooking the Black Sea in the southwest, and in the southeast by the Sea of ​​Azov.
It is noteworthy that the Russian-Ukrainian conflict has entered its ninth month, amid a continuation of the Ukrainian counter-offensive launched last month in the south and east, in order to drive the Russians out of the towns they had taken over.