French President Emmanuel Macron confirmed, on Wednesday, that threats Iran It went beyond the regional scope, adding, "We have to change the way we confront Iran's threats in the world."
He also said in an interview with "Al-Arabiya/Al-Hadath" on the sidelines of the COP27 Climate Conference held in Sharm El-Sheikh in Egypt, "We have to work in an organized manner to confront the Iranian threats."
"It must be ensured that the Iranian people are not affected," he said sanctions against the Tehran regime".
A German government spokesman had announced on Monday that work was underway to impose a package of new sanctions.
He also indicated that the European Union should take the decision on imposing sanctions on the Revolutionary Guard, for its role in the ongoing crackdown on protesters in the country, according to Reuters.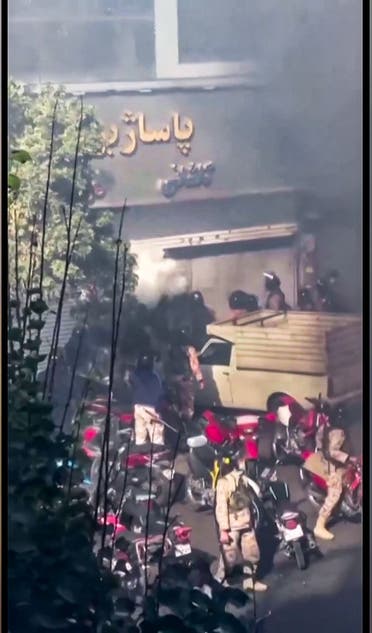 From the arrest and prosecution of security for protesters in Tehran (AFP)
crackdown
It is noteworthy that the European Union foreign ministers had approved, late last month (October), sanctions against several Iranian officials, including the commander of the "Moral Police", for their involvement in the regime's crackdown on the protests that erupted in the country since the killing of the young woman, Mahsa Amini, after her arrest from Before the morality police.
The death of this young woman sparked anger over several issues, including restrictions on personal freedoms and strict rules regarding women's dress, as well as the living and economic crisis experienced by Iranians, not to mention the harsh laws imposed by the regime and its political structure in general.
Meanwhile, the security and political authorities have resorted to methods of repression and violence, whether by cutting off the Internet or using live bullets to disperse protesters, and arresting university students and even schoolchildren, which has led to the killing of more than 300 people so far, according to human rights organizations.
Last Saturday, the commander of the Revolutionary Guards, Hossein Salami, threatened the demonstrators if they took to the streets again, stressing that this day would be the last for what he described as chaos.