The World Health Organization said on Sunday that it does not recommend additional vaccine doses to counter the new spread of Corona.
The organization stated that the mutant currently circulating in China is one of the micron mutants, and it includes some of the most dangerous characteristics to a large extent, and it spreads faster even among those who received the vaccine, according to Dr. Amjad Al-Khouli, head of the International Health Regulations at the World Health Organization.
Al-Khouli described China's new mutant as rapidly spreading and of low risk.
And the government of eastern China's Zhejiang Province, one of the large industrial regions near Shanghai, revealed on Sunday that it is currently facing about one million new cases of Covid-19 caused by the Corona virus per day, and expected the number to double in the coming days.
Despite the record rise in infections recorded nationwide, the Chinese Center for Disease Control and Prevention reported Sunday that no deaths from the virus had been recorded on the mainland in the past five days through Saturday.
Citizens and experts have called for more accurate data as the number of infections soared after Beijing made sweeping changes to its zero-COVID policy that led to strict lockdowns on hundreds of millions of its citizens and battered the world's second-largest economy.
The numbers recorded across China became incomplete after the National Health Commission stopped recording asymptomatic infections, making it difficult to track infections.
On Sunday, the committee stopped announcing daily infections, which the Chinese Center for Disease Control and Prevention then began publishing.
Zhejiang is one of the few provinces with an estimated recent rise in infections, including asymptomatic cases.
China limits its classification of Corona deaths to those who died from pneumonia or pulmonary failure due to infection with the virus, which surprised health experts around the world.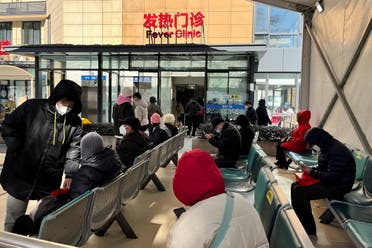 Crowds in front of a Chinese fever hospital
The World Health Organization has not received any data from China on new COVID-19 hospitalizations since Beijing eased its restrictions.
The organization stated that the gap in the data may be caused by the difficulty that the authorities face in counting cases in the world's largest country in terms of population.