On the sidelines COP27 Climate Conference Held in Sharm El-Sheikh, Egypt, British Prime Minister Rishi Sunak stressed the importance of the relations between his country and the Gulf states, and expressed his aspiration to achieve progress in trade relations with them.
In statements to Al-Arabiya/Al-Hadath today, Monday, he said that his country is "fortunate in its important and historical relations with the Gulf states."
He also added that these relations should go beyond defense to economic cooperation.
Tehran destabilizes the region
As for the Iranian file, he referred to the need to consult with his country's partners regarding Iran. He stressed that Iranian practices destabilize the region.
He also explained that "Tehran had not previously accepted the nuclear agreement," adding that the situation had become complicated with the suppression of protesters who have been demonstrating since mid-September, after the killing of the young woman, Mahsa Amini.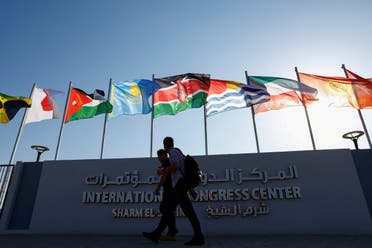 From the Climate Summit in Egypt (Reuters)
With regard to the Russian-Ukrainian file, he considered that "Russia's invasion of Ukraine made the transition to clean energy inevitable," as he put it.
"not fair"
He also considered that "it is not fair to ask Kyiv" to negotiate, while it is under attack, in reference to previous US information and reports that suggested that Washington urged Ukraine to return to the dialogue table with Moscow.
Regarding the climate summit and the global environmental crisis, he stressed, "There will be no prosperity without taking measures to limit climate change."
It is noteworthy that about 200 world leaders participated today in the opening of the presidential session of the conference, which will continue until November 18, while most of the speakers stressed today the need to act globally in order to reduce the factors that weigh heavily on climate change and threaten the whole world, especially developing countries.