despite Historic Saudi victory over Argentina In the first meeting between the two teams in Group C matches in the Qatar 2022 World Cup, an accident occurred dreadful collision For the player Yasser Al-Shahrani with goalkeeper Mohammed Al-Owais, the fans of Al-Akhdar held their breath everywhere.
In an immediate official move, and in implementation of the order of Saudi Crown Prince Mohammed bin Salman, the air medical evacuation plane of the Ministry of Defense's health services transported the injured player from Doha to Riyadh.
A video posted by the Ministry of Defense account, today, Thursday, via Twitter, showed Al-Shahrani lying on the bed, accompanied by an integrated medical team, to be flown from Qatar to the Kingdom.
The national team revealed, in a statement on Tuesday, the details of the injury, indicating that the player Al-Shahrani was transferred to Hamad Medical City as a result of a strong clash in the head, chest and abdomen, where his condition was stable.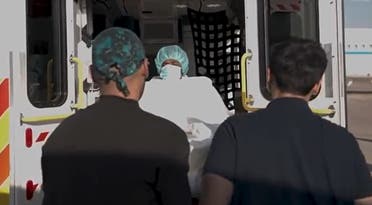 The moment Yasser Al-Shahrani was transferred from Doha by medical evacuation plane to Riyadh
In turn, the Saudi national team player, Yasser Al-Shahrani, reassured the fans after his injury in the "Al-Akhdar" match against Argentina, which ended with the Saudi team's victory with two goals to one, on Tuesday.
Al-Shahrani said, through a clip he posted on Twitter: "I would like to assure you that I am fine, my affairs are good, congratulations on winning, and your prayers for me."
It is noteworthy that Saudi Arabia made an amazing show against Argentina, while the Tango made a goal to carry the signature of its star Lionel Messi from a penalty kick in the tenth minute, Saleh Al-Shehri scored the equalizing goal for Al-Akhdar in the 48th minute, and then Salem Al-Dosari added the second goal for the Saudi national team with a wonderful shot in the 53rd minute. .
The Green Falcons were knocked out 2-1 in one of the biggest upsets in the history of the FIFA World Cup.