This most beautiful policewoman in the world has a lot of fans all over the world who wish they could get caught by her.
Lauded by her fans on international social media as the "world's most beautiful police officer", Diana Ramirez talks about her crime-fighting career, saying it's an "honour" to serve and protect her country.
A Colombian policewoman patrols the streets of Medellin, once considered the most dangerous city in the world, but says she won't give up her day job to become a model or internet influencer.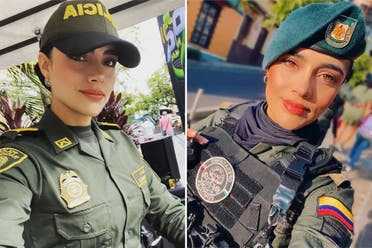 "If I had the opportunity to choose a profession again, I would not hesitate and would become a police officer again, because thanks to this institution, I am what I am," she said in a press interview. She continued, "I owe everything to the National Police who made me a professional, and to the woman I am today."
Colombian policewoman Diana Ramirez, described as "the most beautiful policewoman in the world", revealed details of her work in the city of Medellin, which was once considered the most dangerous region. The policewoman said she is patrolling the city streets daily to catch criminals.
While Ramirez seeks to hunt criminals to become more influential, she is proud of the number of her followers on "Instagram", which has exceeded 300,000, where she often publishes pictures of her in military uniform.
It was nominated for Police or Military Influencer of the Year at the Instafest Awards, which aim to honor professionals who create digital content that reaches a large audience.
"For me, it is an honor to represent the police force with this nomination," the young woman said. "I feel very happy because social media shows the work and dedication of every person who works every day and contributes to building a better country."
Each Ramirez photo is filled with male comments expressing their admiration for the beautiful girl with a gun.
Others claimed that it was not the officer's good looks that made her so alluring, but also the fact that she was willing to put her life on the line to protect her fellow citizens.