Although more than 2,000 years have passed since her mummification, the news of the pregnant lady, or "mystery woman" as you know it, still makes headlines.
A video clip spread on the social networking site YouTube, which showed the first reconstruction of the face of the pregnant Egyptian mummy.
The video was produced by forensic anthropologist Dr. Chantal Milani of the Warsaw Mummy Project, in which she revealed the stages of her work that she followed to reconstruct the face of the mysterious mummy of the woman.
Two different interpretations
As forensic experts worked on the facial reconstruction, using CT scans and X-rays, they ended up with two different interpretations of the woman's appearance.
The dark-skinned, brown-eyed young woman can be seen looking straight ahead in both processes.
The facial reconstructions also provided more information about the woman, whose identity remains unknown to archaeologists.
Scientists have baffled for years
The mummy of the woman known as the "mysterious lady" has puzzled archaeologists for years in search of clues about her true identity, according to Live Science.
While archaeologists believe that the woman died about 2,000 years ago, while she was 28 weeks pregnant, and she was likely between 20 and 30 years old, and she lived in the first century BC.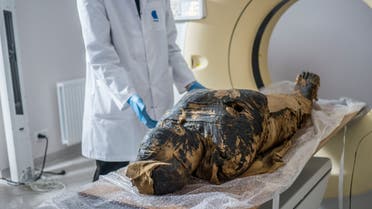 Pregnant mummy
They also concluded that she may have cancer.
Last year, Polish researchers issued a study on the mummy, calling it the "mysterious lady" for lack of information about it.
The mummy was found in the early nineteenth century inside a sealed coffin belonging to a male priest, and was donated to the University of Warsaw in 1826.