Studio has always seen Lebanese "Talk Show" program A state of populist "alertness" in opinions among the public divided between parties, as in the case of the country, except that the alertness until yesterday was just talk, "even if it exceeded the decency" in some cases. But yesterday's episode of the "Time Has Come" program turned into pandemonium and developed into a fight, clash and shooting that necessitated the intervention of the army to control matters and not let them lead to ominous consequences.
The episode of "The Time Has Come", which is shown on the Lebanese "MTV" channel, witnessed great tension between the audience of the "Free Patriotic Movement" of outgoing President Michel Aoun on the one hand, and opponents of him on the other.
The program's presenter, Marcel Ghanem, was forced to stop the episode temporarily after the problem developed into a conflict of hands.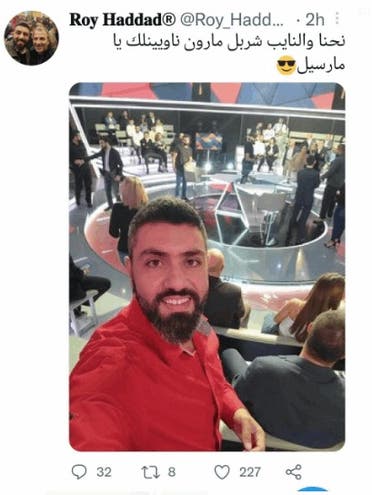 After the audience was taken out of the studio, the problem moved to the outer courtyard of the canal building. The tension remained, and the fight developed, as supporters of the Free Patriotic Movement gathered, which called Marcel Ghanem to appeal to the head of the "Strong Lebanon" bloc, Representative Gibran Bassil, to intervene to control the situation in order to prevent bloodshed. Outside the building, "Al-Tayyar" supporters clashed with studio security, and they fired shots to keep the supporters away.
Commenting on what happened, the "Time Has Come" team considered that "what happened is unacceptable in the studio and is not appropriate for an audience that was supposed to be controlled," apologizing for what happened on the air, stressing that "everything will be placed in the custody of the security forces."
Following the problem, the Central Committee for Media and Communication of the Free Patriotic Movement clarified in a statement that, "While students from the Free Patriotic Movement were participating in the "Time Has Come" program, they were attacked by some of the public and the station's security personnel who took the students abroad. They beat them and shot them."