New Zealand Prime Minister Jacinda Ardern bid farewell to her office staff, after she submitted her resignation from the post.
And when Ardern entered the hall, where the employees gathered, applause and shouts of welcome and celebration erupted. Everyone also respected her, and their faces showed signs of being affected by her departure. Ardern hugged a number of those present while her eyes were teary.
Those present gave Ardern a song that they all sang in the native language of the indigenous tribes of New Zealand.
Jacinda Ardern shocked New Zealand with her announcementHer sudden withdrawal from power Less than three years after she won a second term, following a landslide electoral victory.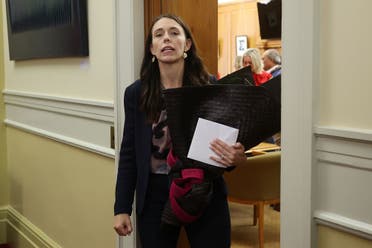 During her tenure, Ardern faced the Covid-19 pandemic, a deadly volcanic eruption, and the worst attack committed in the country when a white supremacist killed 51 Muslim worshipers in two mosques in Christchurch in 2019.
Ardern said that decision Withdrawal from power 'marred with sadness' But she confirmed that she was able to "sleep well for the first time in a long time" after revealing her decision.
Political commentators unanimously condemned the inappropriate language directed at Ardern before her resignation on social media.