A year after his death, Sahar Al-Ibrashi opened a widow The late Egyptian journalist Wael Al-Ibrashi He set fire to members of his family because he prevented her from visiting his grave, and demanded their right to inheritance only 24 hours after his death.
Al-Ibrashi said in a statement to "Cairo 24" that she quickly completed the inheritance notification procedures within days due to the strong urging of his family, pointing out that she did not mention the issue at the time out of respect for her late husband.
She visited him in disguise
She also indicated that she went to visit her husband's grave after dawn, in disguise and in complete secrecy, given that her husband's family refused her visits to the graves, saying: "How do you ask me not to visit Wael in the graves, and at the same time you mourn his mother and allow the media to photograph?"
And about the period of Al-Ibrashi's illness, she revealed that the family did not visit the late during his illness, stressing that they appeared after the departure, demanding inheritance only, saying: "It is not correct that I stand beside my husband throughout the year of illness before his death, and his family, none of them was coming, and we do not know anything about them, and they appeared Just to take the inheritance and the money." He added, "I am silent and do not want to speak."
The widow of Wael Al-Ibrashi attacked his sister, as she confirmed that she did not stand next to her brother in his ordeal except for the sake of inheritance, saying, "The doctors used to ask and say, 'Why is there no one else who comes to the hospital?'"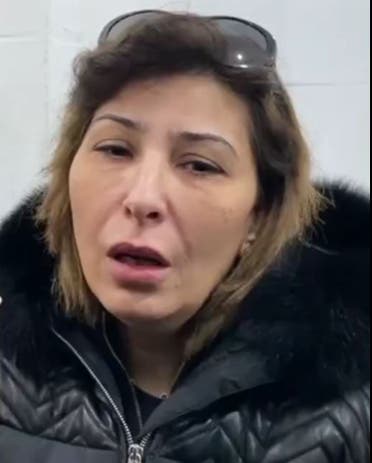 Abrashi's wife
She responded to her accusation of negligence when she was unable to reach Egypt for 10 days during his illness, that she was outside the country, and the Corona crisis closed the airports at that time.
No criminal suspicion
The late journalist, Wael Al-Ibrashi, died at the age of 59, after contracting complications from the Corona virus in December 2021.
The General Syndicate of Physicians completed an investigation with Dr. Sharif Abbas, the physician who treated Wael Al-Ibrashi, after his family filed a complaint against him earlier, accusing him of causing his death.
Dr. Jamal Amira, head of the Syndicate's Investigation Committee, stated that the investigation was closed, as there was no professional error.
Prior to that, the investigation authorities had ruled out the suspicion of the two crimes of medical negligence and the violation of the law regulating clinical medical research, with regard to Dr. Sharif Abbas, with disciplinary trial procedures being taken against the doctor for violating the Ministry of Health protocol followed in treating the Corona virus.