Anwar Al-Ansi
BBC – London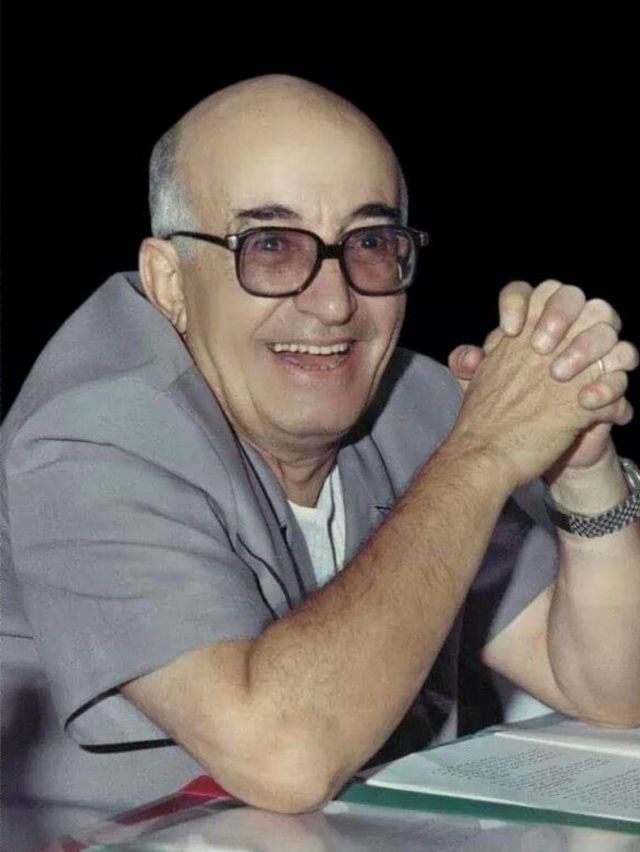 For years, some Yemeni leaders did not understand why former Iraqi President Saddam Hussein, when opening his meetings with them, was interested in asking about two men who were not among his many allies in Yemen.
One of these two men is the late Sheikh Abdullah bin Hussein al-Ahmar, and behind the question about him is al-Ahmar's closeness to Saudi Arabia, Iraq's southern neighbor, and in his capacity as the fiercest tribal and political rival for the allies of the Iraqi Ba'ath in Yemen.
But Saddam's most interesting question was about the other man, Muhammad Abd al-Wahhab Jabari, his Yemeni friend and classmate. He is different from many of the generation of Arab students who graduated from Egyptian universities and most of whom, in the sixties and beyond, became senior officials in their countries, including Saddam himself.
However, the difference between the Iraqi and Yemeni colleagues is the most evident, in terms of thought, politics, and lifestyle. From where and how did the two, Saddam and Jabbari, know each other?
What background did Jabbari come from?
When Jabari renounced the "Asib al-Sheikh," meaning the traditional dagger of the tribes of Yemen, and gave up the "turban of the judge" after he had become a "faqih," he chose to leave his hometown of Dhamar for Sana'a, and from there to Egypt, where he burned his preparatory and secondary studies in less than sixteen years. months. Then he joined the Faculty of Commerce at Cairo University to study economics, which Jabbari later became at the forefront of his most important pillars and theorists in Yemen and the region.
There, in Cairo, Jabbari met a young Iraqi student, Saddam, who was more interested in politics in Iraq than in his university studies in Egypt.
The cafe that Saddam frequented was buzzing with the voices of its customers, their conversations and their chanting of Umm Kulthum's songs, to the point of noise and clamor. But that noise quickly subsided once Saddam put his foot on the doorstep of the café, and as soon as he took his place in it, many gathered around him, listening intently to his talks about politics and Arab nationalism in the face of colonialism.
But as soon as Jabari comes and takes his place next to Saddam, most of the attention and questions turn to him, including those of Saddam who is very attentive to his older colleague.
Saddam's aspirations
I did not verify whether the two men, Jabari and Saddam, had lived in the same university residence in two adjacent rooms, but the details narrated by Jabari and others and what I heard from their Iraqi and Kuwaiti colleagues suggest that. The details were important and funny about the life of this unbridled Baathist boy, who does not live as a mere student in Egypt, but seems aspiring to power.
Saddam did not come to study at all, but he came forced after a dramatic flight from Baghdad, crossing the Tigris River while he was wounded, crossing into Syria and from there to Cairo, which he reached on February 21, 1960, after participating in a failed attempt to assassinate the late Iraqi leader Abdul Karim Qasim. in October of the previous year.
Jubari narrated that Saddam, as he was preparing himself for the leadership of the Iraqi Baath Party, was closing the door of his room, and after turning on a small tape recorder in his possession, he was training to deliver enthusiastic speeches in front of supposed crowds in front of him, as if he had already become the leader of the party and then the "leading president", which is what Check him out later.
Jubari did not talk much about that except for what he said to his friends and close friends, and I was one of them, especially after Saddam became president of Iraq, at a time when Jubari's relations were strengthened more with his friends from the major Kuwaiti investors, while the alliance of the late President of Yemen Ali Abdullah Saleh increased with Saddam in his war against Iran.
Jabbari elevated his readings and reflections years after his graduation and assuming high leadership positions, which made his view of the outcome of events seem beyond what his comrades in power, his sitting people and those who frequented his famous place in Sana'a imagined. Things have reached the point of mockery of what he sees as the tampering of some rulers with the destinies and capabilities of peoples, including his former "colleague" Saddam.
How was Jabbari the minister introduced?for President Saddam
Jubari visited Baghdad in the early eighties of the last century, and it was reported about this meeting that the person assigned to accompany the Yemeni minister and economic thinker, Jubari, to meet Iraqi President Saddam did not know anything about the relationship of the two men.
When the escort introduced the Yemeni guest to Saddam, he described him as a "unique economic mentality." Saddam's response to that escort was shocking and sarcastic, as he said to the escort: "How do you introduce me to a reactionary imperialist person?"
The blood froze in the veins of that poor attendant out of fear of Saddam, then the latter soon embraced his guest and continued his words to the attendant, saying: "You introduce me to Professor Jabari, and you do not know that he is my brother, colleague, and study companion at the university for years, during which I was preoccupied with trade union and political work, and he was interested in studying." ".
After that, Saddam broke the protocol barrier and kept a distance of one meter between him and his guest coming from Sana'a.
One of the fruits of that meeting was that Iraq undertook to build a number of development projects in Yemen, including the completion of the Hudaydah International Airport on the Red Sea, which was built with generous funding from Baghdad at the beginning of preparations to make the Hudaydah governorate a free trade zone.
Attempt to win compulsory
Saddam offered the upcoming Yemeni politician to join the Iraqi Ba'ath Party and be responsible for the leadership of Qatar if he wanted. Jabari's response was to remind Saddam of his position on the Ba'ath ideology. He said to him explicitly: "I think it does not please you that I am one of the founders of the General People's Congress Party, the umbrella umbrella for all political currents in Yemen, and one of those who formulated its theory (the National Pact) and then turned against it now after this visit, and I do not maintain my principles."
Ahmed, Jubari's youngest son, confirms, quoting his father, that after that Qassem Salam was nominated to carry out the task, and Jubari's son denies that he heard from his father "any talk about other aid to Yemen other than some schools, except for some gifts such as luxury cars or money transfers to the accounts of public and tribal political figures." Among them is President Ali Abdullah Saleh, an ally of Saddam."
Jabari and Kuwait
In contrast to his relationship with Saddam, Jabbari's relations with Kuwait developed, where he had previously been associated in Cairo with a number of its students who returned to their country as prominent officials, moneymen and senior businessmen.
Jabbari met the late Emir of Kuwait (Jaber Al-Ahmad Al-Sabah), and through him he was able to attract a number of Kuwaiti investments and development aid to Yemen, including the Faculty of Medicine at Sana'a University, which Kuwait funded all its other faculties, in addition to the "Sheraton" and "Ramadah" hotels, the "Hada" complex and a hospital. Kuwait, Kuwait School and many other honest projects for which Kuwait won the respect of millions of Yemenis.
Many Kuwaiti officials, businessmen, and businessmen admired Jubari's economic mentality and trusted him deeply, especially businessman Abdullah Al-Duaij, who offered Jubari more than once to leave Yemen to live in Kuwait and act as his economic advisor, while ensuring that he and his family were granted citizenship and provided with all means of a comfortable life. But Jabari preferred to stay in Yemen because of his strong attachment to it and his deep sense of his national and moral responsibilities towards his country.
Saddam agreed with Kuwait on Yemen
It seems that the most important point in what Jabari was able to accomplish in his relationship with the Iraqi and Kuwaiti parties was to reach a common tacit conviction between Saddam and Kuwaiti officials on the need to support Yemen with its two parts before and after their unification in the fields, which makes it a country capable of its cultural depth and human stock to create a strategic balance It was needed in the Arabian Peninsula, from the point of view of Baghdad and Kuwait, in exchange for Saudi Arabia, the ambitious and rapidly rising oil power in the region and the Middle East.
But things then went in another direction at the end of the Iran-Iraq war and the ensuing disputes between Kuwait and Baghdad.
Jabbari did not hesitate when Saddam invaded Kuwait to criticize him and denounce it publicly when he said: "Saddam has incurred himself, Iraq and all Arabs with this act, the consequences of which no one can imagine for the next fifty years."
Jabbari's life and thought
Jabbari, who was known by people to be strong in argument and sharp in words, sarcastic, and provocative to those who provoked him, was frank to the point of being hurtful at times, and he did not hesitate to express his opinions in the face of everyone, regardless of his positions.
One of the anecdotes he tells about French President Jacques Chirac, who hosted him in Paris when he was mayor of the city. Jabbari, the mayor of Sana'a at the time, said: "The mayor of Paris cut me down by staying in an ancient hotel that is more than 300 years old and by sleeping on a bed made 250 years ago, just because I am faithful to the oldest capital in history."
The studies that were written about Jabari's life dealt with everything about him except for his life, which I knew closely and remotely both in the last years before his death, and I understood some of its human aspects, as he was one of the adults with whom my life intersected deeply, for many years, despite the vast differences in age, knowledge and circumstances.
Although what those studies overflowed with about this man was abundant and important information, I did not find in any of them, even in one study at least, a comprehensive briefing on Jabbari's life that I knew, because everyone looked at him from the angle that concerned him and not Jabbari with all that his position represented. General of life, religion, history and politics.
One of the most prominent features of his life was his reluctance to see lights and media cameras and not document his memoirs to the extent that I did not find anything in his archives or in the Yemeni media, just as the Iraqi presidential media did not document a single picture of him with Saddam Hussein despite the many rumors in Baghdad and Sana'a for years about this meeting. .
The nationalists, the Baathists, the leftists, the Muslim Brotherhood, and the liberal economists, each from his side tried to attract Jabbari and contain him, but they failed to win him over, and he was even able to attract some of them.
The Arab Media Center issued a good study on him, which I believe was behind his friend, the famous Saudi businessman and financier, Saleh Kamel, and other Kuwaiti investors and others. Perhaps that was the most comprehensive study on the man during his first years of study at the university, through his assumption of the position of the Ministry of Economy and until his departure for his private investment activity in the field of money and business, and his health as well until his death.
"Talaat Harb Al-Yamani"
This study focused on the influence of Jabbari, a student from the poorest country, not only in the material sense, but more importantly, from the worst system that did not know management throughout history, by the father of the Egyptian economy, Talaat Harb.
Jabbari's role, influenced by Talaat Harb, before and after the Yemeni revolution of September 1962, was evident in the establishment of major companies (Yemeni Airlines) and banks such as (Yemeni Bank for Reconstruction and Development), and then his struggle to establish a number of Islamic banks in Yemen and the region.
About that period, Jabari said in an interview with the September 26 Weekly, "There was no public sector or an active private sector in Yemen before the revolution, all of which were dead names. Inactivity was prevalent in both sectors, and at first I worked with the founders of the airline in Yemen, and introduced accounting double entry".
Jabbari began to popularize modern accounting, in which he received an honors degree at the university, on scientific grounds, after he studied it with great diligence at the hands of the professor of the first subject in it, Dr. Abdel Aziz Hegazy, the former Egyptian Prime Minister, whose relations developed after that with his distinguished student.
September 1962
Jabari did not share their revolutionary tendency with the revolutionaries of September 1962, despite his dissatisfaction with the rule of the imams of the Hamid al-Din family.
Jabbari describes his relationship with those revolutionaries, saying: "They knew that if I did not participate with them, I would not betray them, and we walked on such and such, and one day I returned home and found that they had forgotten an open box with me, and they were originally putting locks on the boxes, so I said to see what is in it." I found a list of officials who should be arrested on the first day of the revolution to be executed."
Here, it is likely that Jabari took a special position that made the revolutionaries exclude him without the idea of ​​his treason.
Jabbari did not put his finger on anything without leaving his touch on it. In one of his last exploits, he ordered, when he was the trustee of the capital, Sana'a, to paint all concrete and cement buildings white, and the iron doors of shops and stores blue, in a way that was consistent and did not offend the architectural character of old Sana'a. Only the glass building of Yemenia Airways was excluded from this, as a symbol of "modernity", whose building and logo were scarred by some silver and blue lines.
Jabbari, the Yemeni economic thinker, is gone and has not been repeated, and his country has lost a model of reason, cunning, wisdom and foresight.