The US Department of Defense (Pentagon) announced on Friday the allocation of an additional 400 million dollars to Ukraine in the form of military aid and to establish a headquarters for security assistance in Germany, which will oversee the transfer of all weapons and military training to Ukraine.
Defense Department spokeswoman Sabrina Singh told reporters at the Pentagon that the new command center called the Security Assistance Organization for Ukraine is a permanent and long-term program to continue to assist Kyiv in its fight against Russia.
The Pentagon explained that the $400 million includes contracts to purchase 1,100 Phoenix Ghost drones, and financing to renovate 45 tanks and 40 additional river boats, among others.
According to the Pentagon, the United States is funding the modernization of T-72 tanks and Hawk surface-to-air missiles, as part of a military aid package.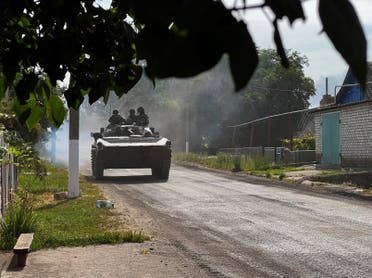 Ukrainian tank in the Donbass region (AFP)
Air defense capabilities and armor are at the top of the list of assistance requested by Ukraine, but the T-72 tanks remain less modern than the German "Leopard" or "Abrams" tanks requested by Kyiv.
"These tanks are sourced from the defense industry in the Czech Republic, and the United States will pay to renovate 45 of them, and the government of the Netherlands will make a similar commitment," bringing the number to 90 T-72 tanks, deputy Pentagon spokesman Sabrina Singh told reporters.
It added that the T-72s – a Soviet-era tank – would be equipped with "advanced optics, communications and armor", some of which would be ready by the end of December and others to be delivered in 2023.
When asked why more modern tanks are not available, Singh cited factors including ease of use and cost.
She commented, "There are tanks that the Ukrainians know how to use in the field. The introduction of new main battle tanks is very expensive and time-sensitive, and it would be a huge task for Ukrainian forces."
The package also funds the replenishment of Hawk missiles from US stockpiles, which is important for Ukraine as it seeks to repel Russian missile and drone strikes on its cities and energy infrastructure.
Because US weapons are procured through the Ukraine Security Assistance Initiative, they will not be ready for immediate transfer to Kyiv.
The weapons provided through the initiative's financing are obtained through long-term industrial contracts rather than from US arms stockpiles.
The United States has pledged more than $18.2 billion in weapons and other equipment to Ukraine since the Russian offensive began on February 24.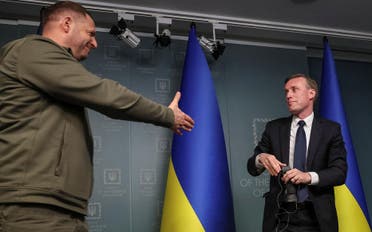 Sullivan and Zelensky in Kyiv
Jake Sullivan in Kyiv: The need to strengthen Ukraine's air defenses
Jake Sullivan, US President Joe Biden's National Security Adviser, emphasized that Ukraine "badly needs" equipment for its air defenses at "this critical moment" when Russia is carrying out massive strikes on its energy sites.
"We are aware of the great need for air defense systems at this critical time when Russia and the Russian forces are raining missiles on the country's civilian infrastructure," he added in a press conference, held at the Ukrainian presidential residence, on Friday.
In recent weeks, Russia has intensified its strikes on Ukraine's energy infrastructure, causing blackouts across the country.
Sullivan made an unexpected visit to Kiev on Friday, where he met with President Volodymyr Zelensky and Defense Minister Oleksiy Reznikov to express, according to the White House, Washington's "unwavering support" in the face of the Russian offensive.
"The most important thing I've come to say today is that the United States will be by Ukraine's side, no matter how long this fight lasts," Sullivan told reporters in Kyiv.