America called on Israeli Prime Minister Benjamin Netanyahu to abide by his commitments to maintain the status quo for sacred sitesAnd that was after the new far-right Israeli Minister of National Security, Itamar Ben Gvir, stormed the Al-Aqsa Mosque compound.
On Tuesday, diplomats reported that the UAE and China had asked the UN Security Council to meet publicly, most likely Thursday, to discuss the latest developments at Al-Aqsa Mosque.
"The United States firmly supports maintaining the status quo while respecting the holy sites in Jerusalem," US presidential spokeswoman Karen Jean-Pierre said on Tuesday.
"Any unilateral step that endangers the status quo is unacceptable," she added.
And she stressed that the United States calls on Prime Minister Netanyahu to maintain his commitment to the status quo of the holy sites.
For his part, US State Department spokesman Ned Price said in a separate statement that the United States is "extremely concerned" after Ben Gvir's move.
He considered that "the visit could exacerbate tensions and spark violence."
And he announced that Washington held "direct talks, on Tuesday, with representatives of the Israeli Prime Minister's Office regarding this visit."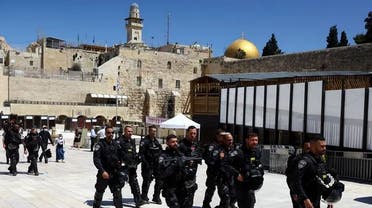 Al-Aqsa Mosque
In addition, an official in the office of the Israeli Prime Minister, Netanyahu, said that the latter is committed to preserving the status quo in Al-Aqsa Mosque, after the Minister of National Security stormed the Al-Aqsa courtyards amid heavy security, in a move that was condemned by the Palestinian presidency and Arab countries.
The Saudi Foreign Ministry expressed the Kingdom's condemnation of the provocative practices of the Israeli official. In a statement, the ministry expressed the kingdom's regret over Israel's practices that undermine international peace efforts and contradict international principles and norms in respect of religious sanctities.
The Jordanian Ministry of Foreign Affairs summoned the Israeli ambassador to protest Ben Gvir's storming of Al-Aqsa Mosque. The ministry said that this provocative step is condemned and represents a flagrant and unacceptable violation of international law.
The statement added that the continuous violations and attacks on sanctities warn of further escalation, which the international community must stop immediately. The Jordanian Foreign Ministry held Israel fully responsible for the dangerous consequences of this escalation.
While Egypt, the UAE, Kuwait, Qatar and the League of Arab States condemned the storming.
The Palestinian Ministry of Foreign Affairs condemned the Israeli Security Minister Ben Gvir's storming of the courtyards of Al-Aqsa Mosque, describing it as an unprecedented provocation.
It also confirmed that this storming legitimized further incursions, and the violation of Al-Aqsa Mosque by settlers, holding the Netanyahu government responsible for its consequences.
On Tuesday morning, Ben Gvir stormed the courtyards of Al-Aqsa Mosque, under strict protection from the Israeli police, and without prior notice.
The Palestinian Ministry of Health stated that Israeli forces shot dead a child during their incursion into Bethlehem.