Al-Arabiya correspondent reported today, Tuesday, that there were casualties and injuries in the bombing of a Turkish march on a headquarters of the Syrian Democratic Forces in Al-Hasakah.
The Syrian Democratic Forces are seeking to stop the Turkish escalation against it by communicating with Washington and Moscow after Ankara's raids and threats to launch a new ground offensive in its areas, according to what its commander-in-chief, Mazloum Abdi, told AFP.
Abdi described the position of Washington, the main supporter of his forces and the backbone of the Kurdish People's Protection Units, and Damascus, whose soldiers were killed in the Turkish raids, as "weak."
At dawn on Sunday, Ankara launched a military air operation, which it said was "successful", and was represented by dozens of air strikes against Kurdish fighters in Syria and Iraq, before Turkish President Recep Tayyip Erdogan announced on Monday the possibility of launching a ground operation as well in Syria.
"Our main efforts are currently focused on reducing escalation by the Turkish side, and we will do everything in our power to achieve this by communicating with all stakeholders in the Syrian file," Abdi told AFP by phone from Beirut, referring to the Americans and the Russians.
Turkey launched its air operation a week after it accused the Kurdistan Workers' Party (PKK), which has its headquarters in Iraq, and the Kurdish units in Syria of being behind the Istanbul bombing, which killed six people and wounded 81 others. Both Kurdish parties denied any role in the attack.
"We have repeatedly declared that we have nothing to do with what happened in Istanbul," Abdi said, accusing Turkey of using it as an "argument."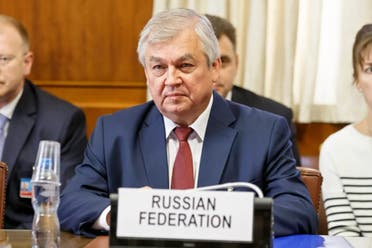 Russian envoy to Syria Alexander Lavrentiev
self-control
Today, Tuesday, Moscow called on Ankara to exercise "restraint" in Syria, according to a Russian official. Russian news agencies, quoting Moscow's envoy to Syria, said that Moscow believes that Turkey should refrain from using "excessive" military force in Syria, and that there is a need to search for a peaceful solution to the Kurdish issue.
The agencies quoted the envoy, Alexander Lavrentiev, as saying that Moscow will work with partners to find a solution to the conflict.
"We hope to persuade our Turkish colleagues to refrain from any excessive use of force on Syrian soil," Lavrentiev told reporters, in order to "avoid an escalation of tensions." The Russian official made his statement in Astana, the capital of Kazakhstan, where a Russian-Turkish-Iranian tripartite meeting on Syria will be held.
Turkey had said that Kurdish factions had killed two people in missile attacks from northern Syria on Monday Cross-border vendettas escalate in the wake of Turkish air strikes over the weekend And a bomb attack in Istanbul a week ago.
Turkish Defense Minister Hulusi Akar said that the military operation in northern Syria and Iraq is the largest, most comprehensive and most effective against the militants.
The Turkish armed forces said they were responding to the attack, and a senior security official told Reuters that Turkish planes had again begun bombing targets in northern Syria.
Turkish Interior Minister Suleiman Soylu said that V.I The attack is the latest in a series of revenge attacksSeveral rockets hit a border neighborhood in Gaziantep province, killing a child and a teacher and wounding six. Soylu later said that a pregnant woman, who was initially reported to have been killed, was seriously injured and was receiving hospital care.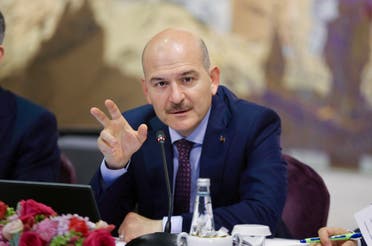 Turkish Interior Minister Suleiman Soylu
Continuous Turkish attacks
The district governor, Daoud Gul, said five rockets hit a school, two houses and a truck in the Qarqamish border area. CNN Turk said that the missiles were launched from the Syrian Kobani region, which is controlled by the People's Protection Units.
Turkish warplanes have already launched air strikes on Kurdish militia bases in Syria and Iraq on Sunday, destroying 89 targets of the Kurdistan Workers' Party (PKK) and the People's Protection Units (YPG), which Ankara says is a wing of the PKK.
The Turkish Defense Ministry said in a statement that 184 militants were killed in operations on Sunday and Monday. It added that the operations included air strikes and ground weapons.
Turkey said the military operations that took place over the weekend were in response to a bomb attack in Istanbul a week ago that killed six people. Turkey held the outlawed Kurdistan Workers' Party (PKK) responsible for the attack.
Istanbul attack
The PKK and the Kurdish-led Syrian Democratic Forces, which includes the Kurdish People's Protection Units (YPG), denied involvement in the November 13 bombing in a densely populated neighborhood.
The United States allied with the Syrian Democratic Forces in its fight against ISIS in Syria, which caused a deep and long-standing rift with NATO member Turkey.
State Department spokesman Ned Price said in a statement that the United States urged on Monday not to escalate violence in Syria. Price also said that the United States remains opposed to "any uncoordinated military action in Iraq that would violate its sovereignty."
A spokesman for the Syrian Democratic Forces said that the Turkish attacks over the weekend destroyed grain silos, a power station and a hospital, killing 11 civilians, an SDF fighter and two guards. He added that the forces would retaliate.
Erdogan: The operation may include the participation of ground forces
As part of the operations that took place over the weekend, Ankara said that eight members of the security forces were wounded in missile attacks launched by the People's Protection Units (YPG) from Tal Rifaat in Syria on a police post near a border crossing in the Turkish province of Kilis.
A source in the Syrian Democratic Forces said that Turkey attacked, on Monday, a Syrian army position west of Kobani, where there is a military barracks for the People's Protection Units. The site is one of several where the Syrian army is stationed to prevent the Turks from attacking the SDF.
The Turkish armed forces have carried out several large-scale military operations in recent years in northern Iraq and northern Syria against the People's Protection Units, the Kurdistan Workers' Party and ISIS.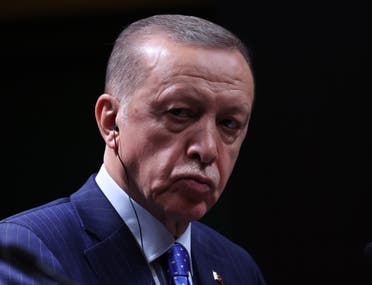 Recep Tayyip Erdogan
President Recep Tayyip Erdogan said the operations would not be limited to an air campaign only and might include the involvement of ground forces.
Turkish media quoted Erdogan as saying upon his return from a visit to Qatar: "The Ministry of Defense and the General Staff will jointly decide the size of the ground forces that should participate. We are conducting our consultations and then taking our steps accordingly."
Anadolu Agency also quoted President Erdogan as saying that, in recent years, the United States has delivered thousands of trucks loaded with ammunition to Kurdish militias in Syria.
The Turkish president added, "It raises our regret that Turkey's NATO ally has in recent years delivered thousands of trucks loaded with ammunition and weapons to areas in Syria where terrorists are active."
The PKK rebelled against the Turkish state in 1984, and more than 40,000 people were killed during the conflict. Turkey, the United States and the European Union classify the party as a terrorist organization.