The news of the delivery of four Turkish planes "out of service" and deposited in an aircraft cemetery, according to some reports, to Iran via South Africa occupied the Iranian media, sparking several speculations in this regard until an official in the Iranian Civil Aviation Organization put the dots on the letters, stressing "the import of Aircraft" even though its life span ended several years ago, at a time when the law of Iran's Supreme Aviation Council does not allow them to be imported because of that.
The leak of Airbus planes and their landing in Iran was announced by the Deputy Director of the Civil Aviation Organization, Hassan Khoshko, and he clarified regarding the news of the "importation" of these passenger planes in an interview with the Iranian Students' News Agency "ISNA".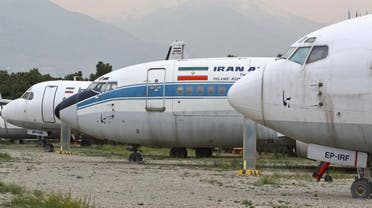 Most Iranian aircraft date back to the seventies and early eighties of the last century
Earlier, aviation websites reported that 4 Airbus A340-300 civil aircraft left South Africa for the Republic of Uzbekistan in Central Asia, five days ago, but landed in Iran.
These planes were owned by Turkish Airlines and out of service, and were sold to the "Euroglobal" company in Hong Kong in 2018 and 2019, and the company maintained them in Johannesburg, South Africa, in order to use them again, and it is said that the four planes were manufactured between 1996 and 2000 and are more than 20 years old. years.
According to the published information, the four planes left Johannesburg simultaneously on December 23 and headed to Uzbekistan, but suddenly disappeared from the radar screen in the skies of Iran, and it is expected that they landed at Imam Khomeini Airport in the Iranian capital, Tehran.
According to reports, the four aircraft's registry was changed shortly before the flight to Burkina Faso.
The change of course of these four planes brought the speculation of those interested in tracking commercial planes in social networks.
It is noteworthy that the import of used aircraft for the benefit of the Iranian air fleet was not limited to these four cases only. Over the past years, Iranian airlines have purchased used aircraft, and this has provoked negative reactions by some experts regarding the age of the purchased or leased aircraft and the danger of using them.
In February 2020, the secretary of the Iranian Airlines Association asked the Iranian Supreme Council of Aviation to lift the age restrictions on used aircraft, because as a result of these restrictions it will be impossible to renew the Iranian fleet in view of the sanctions imposed on Tehran because of its nuclear file.
According to the decision of the Iranian Supreme Council of Aviation, the age of imported aircraft should not exceed 20 years.