Ukrainian President Volodymyr Zelensky said on Sunday that his country is facing a "very difficult" situation in Ukraine Donetsk region – East of the country – and needs faster supplies of weapons and new types of weapons to resist Russian attacks.
"The situation is very difficult. There are continuous Russian attacks (in) Bakhmut, Volidar and other sectors in the Donetsk region," he added in his videotaped nightly address.
He also added, "Russia wants the war to prolong and exhaust our forces… That's why we have to speed up events, speed up supplies, and make new weapons options available to Ukraine."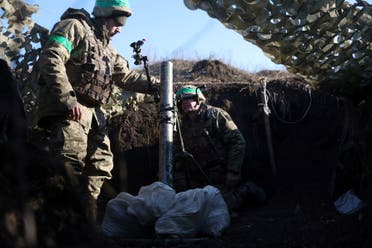 Ukrainian forces in Donetsk (AFP)
A strike hits a hospital in Kherson
In addition, Zelensky announced that the Russian bombing Sunday on Kherson in southern Ukraine killed at least three people and wounded six, including two nurses, in a strike on the city hospital.
"The Russian army shelled Kherson brutally all day. A hospital, a post office and a bus station were damaged. Two nurses were injured in the hospital. In total, there are six wounded and three dead," he said.
On the other hand, the authorities in the Russian-controlled Zaporizhia region indicated that four people were killed in a Ukrainian strike on a railway bridge.
Recently, the front in southern Ukraine, where the Russian army was forced to abandon Kherson in November, was calm compared to the front lines in the east of the country, where fierce fighting is taking place, but the shelling from both sides did not stop, and fighting resumed this week in the Zaporizhia region.
HIMARS missiles
For his part, the head of the pro-Russian administration in Zaporizhia, Yevgeny Paletsky, accused the Ukrainian forces of launching "a strike with HIMARS missile launchers targeting a railway bridge crossing the Molochnaya River."
Paletsky added, "Four railway workers were killed, while five were injured while they were in the process of receiving treatment."
The bridge is located in a village north of the Russian-controlled city of Melitopol and is being repaired, according to the official.