The news circulating about the presentation of the belongings of the international star Omar Sharif at an auction in France on December 10, has sparked widespread controversy on social media during the past few days.
And it required his son, Tariq Al-Sharif, to break his silence to announce that he had informed the French police of the matter, noting that this was considered theft if these holdings were real.
Omar Sharif's coat
The story began when the writer Hossam Alwan published pictures of the holdings of the Egyptian artist Omar Sharif on his official page on "Facebook" and commented on it: "The strangest thing I had imagined was that it could be offered for sale in To Omar Sharif, his bank cards, and his membership card in the French Federation of Horse Racing."
Tariq Omar Sharif commented on the post in a blog post in which he said: "Any additional information would be appreciated. I informed the police here in France, in addition to ubs.. If these things are real, they are stolen."
The famous French auction site "Dorot" had offered personal belongings of the Egyptian artist Omar Sharif through a public auction in the French capital, Paris.
The site announced that the auction will be held on December 10 at 11 am, with the delivery place in the French capital, Paris.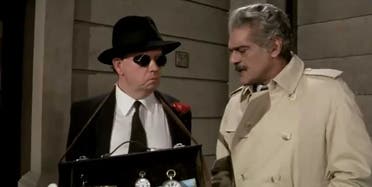 Omar Sharif from "Top Secret"
golden lion credit cards
The site revealed that the collectibles consist of "a raincoat from the Burberry brand made in England, worn by Omar Sharif in the movie "Top Secret" directed by Blake Edwards in 1984, with Julie Andrews, noting that "the condition of the coat is excellent," and it will be offered at a price It ranges from 300 to 350 euros.
The collectibles also include, according to the site, two "American Express" and "UPS" credit cards, and one card from the National Federation of French Cycles, in addition to the Venice Festival award, which is the Golden Lion Award that Omar Sharif received in 2003 at the festival in the city of The Italian Venice, which was awarded to him in recognition of his many international works and roles in cinema. This award is located in its original gilded box, as described by the site, and the selling price ranges between 1600 to 1800 euros.