After widespread controversy, the Ministry of Justice of the Libyan National Unity Government announced that the file "Lockerbie caseIt was completely closed politically and legally according to an agreement between Libya and the United States and a previous decree issued by former US President George Bush in 2008.
respond to accusations
This came in response to the controversy aroused by the news of the disappearance of "Abu Ageila Masoud Al-Marimi", one of the suspects in the 1988 Lockerbie bombing case and one of the wanted persons of the United States, as well as in response to the accusations against the United States of standing behind his kidnapping to hand him over to Washington for trial on its soil, in The framework of a political deal to keep its president, Abdel Hamid al-Dabaiba, in power.
The ministry said, in a statement on Sunday evening, that "the Lockerbie case cannot be raised again, nor can it be returned to," without clarifying the circumstances of the disappearance of the citizen, "Abu Ajila al-Muraimi" from his prison in Tripoli, where he has been held since 2011, or his fate.
The disappearance of Abu Ageila
It is noteworthy that the news of the disappearance of Abu Ajila al-Marimi caused an uproar in Libya, and fears arose that he could be handed over to Washington for investigation and trial, and that the "Lockerbie" case would be revived, which might constitute additional pressure on the Libyan state. These fears were reinforced by media statements by Foreign Minister Naglaa al-Manqoush a year ago. In it, she said that "her country is ready to cooperate with the United States to extradite a suspect in the Lockerbie bombing case," noting that there are "coming positive results" in this regard.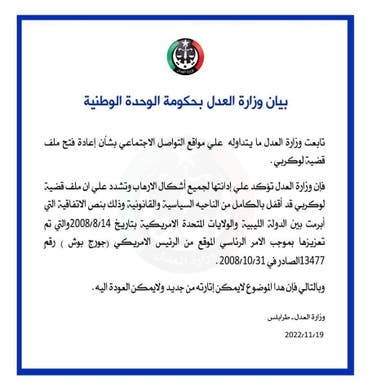 "build the bomb"
It is noteworthy that Abu Ajila, an official of the intelligence apparatus during the era of the former regime, was convicted of charges related to the fatal accident that killed 270 people, including 190 Americans during a flight between London and New York, and he was charged at the end of 2020 in the United States with his "involvement." In planning and manufacturing the bomb" that brought down the plane over the "Lockerbie" area and in committing crimes related to terrorism, and requested the Libyan authorities to extradite him in preparation for his trial.
The Lockerbie case is a sensitive political and criminal file for the Libyans, most of whom refuse to reopen this file, which cost the state huge financial losses during Muammar Gaddafi's rule to compensate the families of the victims ($2.7 billion), and strongly oppose the extradition of a Libyan citizen for trial abroad, as they believe in the innocence of their country. Of all the accusations you're pursuing in this case.