Controversy is still going on in the European decision rooms about sending German Leopard tanks To Ukraine, while waiting for Berlin's approval in this regard.
In this context, Polish Deputy Foreign Minister Pawel Jablonski said today, Friday, that his country is ready to take "extraordinary" action if Germany opposes sending Leopard 2 tanks to Ukraine.
Asked if sending tanks to Ukraine would be possible even with Germany's opposition, Jablonski said, "I think if there is strong resistance, we will be ready to take such a non-standard measure."
This came a day after similar statements by Polish Prime Minister Mateusz Murawski, who said that the West would not wait for German approval to send weapons to Ukraine.
Murawski said that obtaining Germany's permission to send Leopard tanks to Ukraine was a "minor issue".
This came after Germany announced that it would not allow allies to ship German-made tanks to Ukraine to aid in its defense against Russia and would not send its own systems, unless the United States agreed to send American-made battle tanks.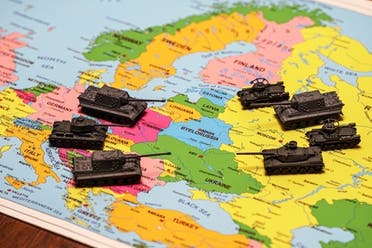 NATO, Russia (Shutterstock)
German clause
The German Chancellor, Olaf Scholz, said he was ready to allow the provision of "Leopard-2" tanks to Ukraine, provided that Washington provided Kyiv with "Abrams" tanks.
This came as a condition set by Schultz during a phone conversation with US President Joe Biden last Tuesday.
The German Chancellor confirmed in more than one statement that Germany will not take unilateral steps on the issue of military support for Ukraine.
More than 2,000 tanks
It is noteworthy that Washington is working hard for Berlin to supply Ukraine with Leopard tanks from its own stocks and not just by allowing other NATO countries to re-export the tanks, as deliveries cannot be made without the permission of Germany, which manufactures these tanks.
NATO allies own more than 2,000 German-made Leopard tanks, which are among the most advanced in the world, according to the London-based International Institute for Strategic Studies.