Today, Friday, the Iranian news agency reported the death of an intelligence chief Iran's Revolutionary Guards Colonel Nader Bayrami in the city of Sahna in Kermanshah province at the hands of what it described as "rioters".
The head of the city of Sahna, Hanbakhsh Zanganeh Tabar, said that a number of "rioters and thugs" attacked the security forces with white weapons, which led to the killing of Colonel Bayrami.
Tabar confirmed that the security services were able to arrest those involved in the killing of Birami immediately after his assassination.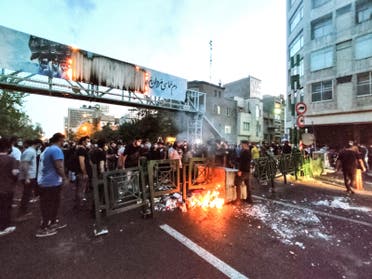 From previous protests in Iran (AFP)
With the protests in Iran entering its third month, Iran International revealed a document in which a senior commander in the Iranian army calls for daily reports on the arrest of any of the army forces or their families during the protests, which explains the concern within the military establishment about the defection of army personnel and their joining the protests.
Meanwhile, official Iranian media reported that nine members of the security forces, the Basij, and border guards were killed in clashes, shootings, and stabbings, on Thursday, in several cities witnessing anti-regime protests.
In the context, reports from Iran today, Friday, indicate that the authorities have cut off internet service or severely impeded access to it in several cities, according to what was reported by the "Iran International" website.
This comes as demonstrators in Iran today chanted slogans denouncing the regime during the funeral of a boy whose family said he was killed by the security forces, according to what a human rights group and an observatory announced.
Hundreds of people took to the streets of the city of Iza, in southwestern Iran, during the funeral of Kian Pervalak, who is about 10 years old, according to a video recording published by the Norway-based Human Rights Organization in Iran and the "1500 Photographs" observatory.
Funerals have often turned into demonstrations in the protest movement that began after the death of young woman Mahsa Amini on September 16, after she was stopped by Tehran's morality police for not adhering to strict dress codes.
For its part, Iranian state television reported today that seven people were buried, including a nine-year-old boy, adding that they were killed by "terrorists" on motorcycles.
For its part, the Iranian Human Rights Organization confirmed, on Wednesday, that the death toll from the Iranian protests had risen to 342, including 43 children and 26 women. It added in a statement that among the dead were 43 children and 26 women.
She said that official reports indicated that 5 protesters had been sentenced to death.