The Egyptian Federation's Board of Directors approvedBasketballheaded by Dr. Magdy Abu Freikha, on Al-Ahly club's request to award the Super Cup championship for the 2021/2022 season to the club. Alexandria Union.
The Board of Directors of the Basketball Association received a letter from Al-Ahly Club, stating that it waived any rights in this tournament, and expressed its desire to crown Al-Ittihad Club of Alexandria in the Super Cup championship.
Al-Ahly indicated, in his statement, that his decision comes in appreciation of the fans of Al-Ittihad Club of Alexandria, who were injured due to the fall of the broadcast camera carrier during the third quarter of the meeting that was held last December 24.
For its part, the Board of Directors of the Egyptian Basketball Association praised the Al-Ahly Club initiative, which reflects the meanings of sportsmanship among all Egyptian clubs. He congratulates Al-Ittihad Club of Alexandria on the occasion of winning the title.
The text of the Al-Ahly club's speech came as follows:
"Al-Ahly Club and its board of directors present you with its kindest greetings and wishes to your esteemed union for continued success in serving the Egyptian basketball game.. and on the occasion of the events that took place in the super match between Al-Ahly Club and Al-Ittihad Club of Alexandria on December 24 last, and the broadcast camera carrier fell on the fans, as a result of which the match was not completed .. It gives us pleasure to express our happiness with the recovery of the injured from the fans of the sister club Al-Ittihad and their return to their families.. And based on the historical ties between Al-Ahly Club and its brother Al-Ittihad Club, and the relationship between the two great clubs, which was and will always be greater than any championship.. We conclude to your honor the decision of the Board of Directors Al-Ahly waived any rights to the club in this tournament, and our desire to crown Al-Ittihad Club of Alexandria with the Super Championship, in appreciation of its fans who suffered on this day, and its team that was superior by a number of points, and there was only one period remaining from the match time .. and away from any details Concerning the technical aspects and the result.. Al-Ahly Club congratulates Al-Ittihad Club for crowning this championship and the happiness of its fans who love the game of basketball, which is linked with Al-Ahly fans by ties and constants that reflect values Supreme Sports.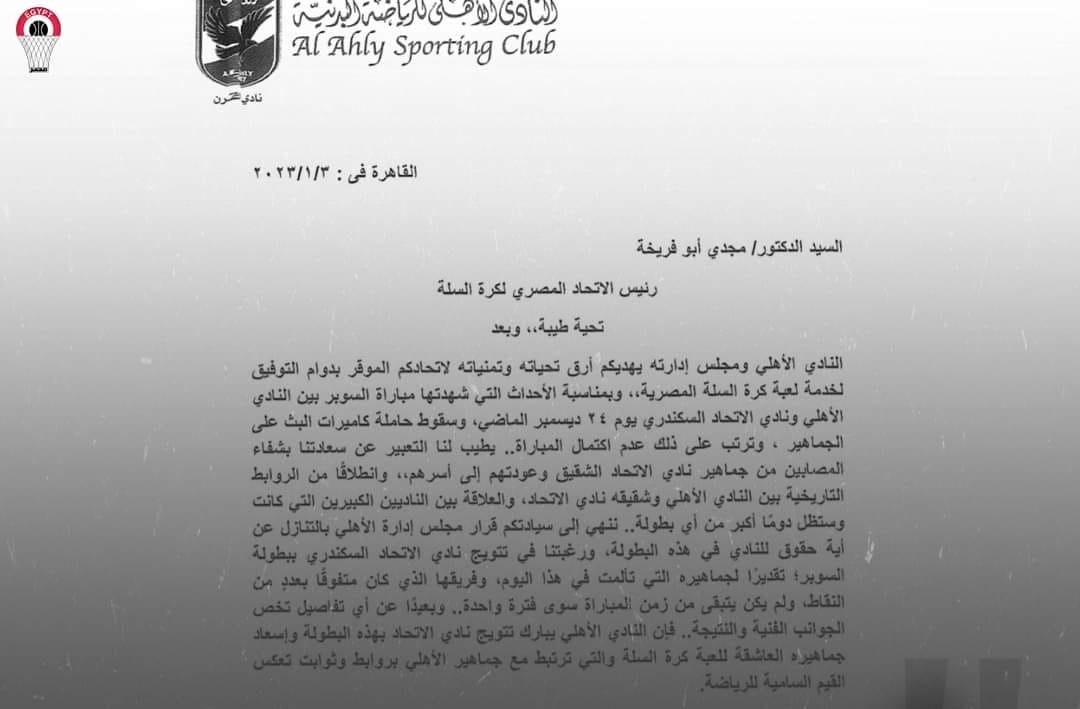 b617224c-470d-4008-8eba-34f7c78763d3
.