"Forbes" magazine revealed the strange details of Trump's former and late wife's will, Ivana, for her wealth, as she will divide the wealth between Ivana's children, Donald Jr., Ivanka and Eric Trump. She also left two properties to friends of hers, and tried to leave another property to her ex-husband, Rossano Rubicondi, but he died before her while he did not. Trump, who attended her funeral, gets something from the estate.
According to the magazine, the assets of Ivana's estate are a townhouse in New York City, located half a block from Central Park. Her heirs are currently trying to sell it, and are asking for 26.5 million dollars for it, provided that the amount is divided equally between them, according to their mother's will.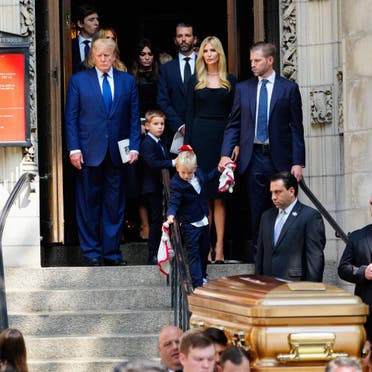 The magazine said in its report that the biggest beneficiary outside Trump's children may be Dorothy Curry, who worked with the Trump family for decades as a nanny and then an assistant to Ivana and remained close to the family for years. Carey received an apartment in Florida valued at more than $1 million.
The estate also includes some property abroad, and in 2021 Ivana gave another property in Saint-Tropez to her friend Evelyn Gallet, an unknown person.
Ivana also bequeathed all her clothes to the American Red Cross and the Salvation Army, with the exception of the fur garments, which she directed to be sold, with the proceeds going to her three children.
The Internal Revenue Service allows anyone to inherit $12 million tax-free, but the government takes up to 40% of amounts over that.