A White House spokesman said Thursday that North Korea provided "last month" weapons to the Wagner Group, and could provide it with other shipments, warning of the growing strength of this Russian paramilitary group.
John Kirby, a spokesman for the National Security Council at the White House, considered that Wagner was on its way to becoming a "competitor" to the Russian regular army, pledging to impose more sanctions on it.
"I received a shipment of weapons."
A senior official in the US administration had preceded the White House statement by saying today, Thursday, that the Russian Wagner Group had received a shipment of weapons from North Korea to help strengthen the position of Russian forces in Ukraine, in an indication of the widening role of that group in the conflict.
"We can confirm that North Korea has completed the delivery of an initial shipment of weapons to Wagner, which has paid for the equipment," said the official, who asked Reuters not to be named. "Last month, North Korea sent a shipment of rockets and infantry missiles to Russia for use by Wagner."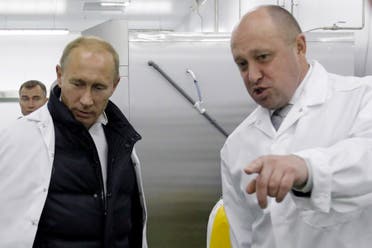 Wagner founder Yevgeny Prigozhin, known as Putin's chef with the Russian President (archives – France Press)
It won't affect the battle.
The US estimate, which was based on intelligence information that will be disclosed today, Thursday, indicates that the amount of equipment delivered by North Korea will not change the facts of the battle in Ukraine, but the official said, "We are concerned that North Korea intends to deliver more military equipment to Wagner."
US officials believe the North Korean arms shipments are a direct violation of UN Security Council resolutions and plan to bring the matter before the Security Council. Weapons experts say Pyongyang has built ballistic missiles capable of hitting any part of the world, as well as shorter-range weapons.
The official also said that Russian President Vladimir Putin is increasingly turning to the Wagner Group of his ally Yevgeny Prigozhin for help in Ukraine, where Russian forces have faltered.
New restrictions
On Wednesday, US President Joe Biden's administration unveiled new restrictions on technology exports to the Wagner Group in an effort to block supplies from it.
The official promised the Russian company and those who support it in countries around the world that they would be subject to more sanctions in the coming weeks.
The official added that Prigozhin, a Russian businessman, spends more than $100 million a month to finance Wagner's operations in Ukraine, but is having problems recruiting Russians to fight there.
50 thousand in Ukraine
He pointed out that the United States estimates that there are 50,000 Wagners in Ukraine, including 10,000 contractors and 40,000 convicts from Russian prisons.
"The Russian army has been relying on Wagner for months to lead combat operations in parts of Donbass, and at times Russian military officials are subordinate to Wagner's command," the official added.