Ukrainian President Volodymyr Zelensky, in a video address during an emergency session of the UN Security Council, on Wednesday, considered that the Russian air strikes on the Ukrainian power grid represent a "clear crime against humanity."
"When the temperature is below zero and tens of millions of people are without energy supply, without heating, without water, this is a clear crime against humanity," Zelensky said.
Russian strikes left Ukraine's power grid on Wednesday in tatters. Zelensky wrote in a previous tweet: "The killing of civilians and the destruction of civilian facilities are terrorist acts. Ukraine continues to demand a firm response from the international community to these crimes."
And Russian strikes throughout Ukraine, on Wednesday, destroyed the already damaged electricity network, leaving many dead, and caused 3 nuclear power plants to be disconnected from the network, which led to a "massive" power outage in neighboring Moldova.
Millions of people lost power after weeks of Russian bombing. The World Health Organization has warned that Ukraine's priority this winter will be "survival".
Earlier, Ukrainian President Zelensky announced that his country would restore infrastructure damaged by Russian air strikes on Wednesday, and praised the morale of his people.
"We will renew everything, and we will overcome all of this because we are an unbreakable people," he said in a brief video speech posted on the Telegram messaging app.
And the Ukrainian Air Force announced that Russia launched about 70 cruise missiles at Ukraine today, 51 of which were shot down. These air strikes have caused Widespread power outages.
The Ukrainian military said on Telegram: "In total, about 70 cruise missiles were fired, and the Air Defense Forces destroyed 51 missiles. Also, 5 Lancet drones were destroyed in the south of the country."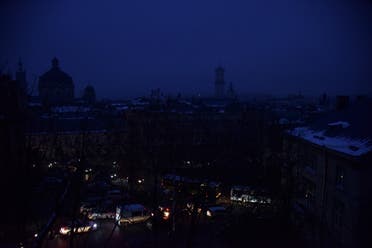 Darkness in Lviv today due to Russia bombing energy facilities
Shortage of artillery ammunition
For his part, US Defense Secretary Lloyd Austin confirmed, on Wednesday, that the Russian forces It suffers from a "significant" shortage of artillery ammunitionwhich undermines its operations in Ukraine.
"The Russians have been facing logistical difficulties since the beginning of the war in Ukraine, and they are suffering from a severe shortage of artillery ammunition," Austin told reporters from inside a US military plane.
Kyiv targeted storage sites belonging to Moscow, which caused the Russians "somewhat difficulties in terms of the amount of ammunition they have," according to Austin.
Austin pointed out that the Russian forces rely heavily on artillery, as they fire a large number of shells before conducting ground maneuvers.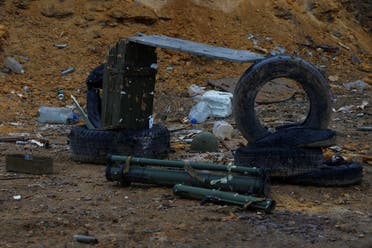 Weapons left by the Russians in Kherson after their withdrawal
He continued, "This type of operation requires large amounts of ammunition. I'm not sure they have this kind of ammunition enough to go forward."
Austin also noted that Russian supplies of precision-guided munitions had "dropped significantly" over the course of the nine-month conflict, and stressed that Moscow would not be able to replace them quickly given trade restrictions on items such as microchips.
In a related context, the White House announced today that the United States It will send another 400 million dollars of ammunition and generators to Ukraine, and will draw equipment from its own stockpile to support Kyiv as quickly as possible while Russia continues to bomb Ukrainian energy resources and winter sets in.