The Russian military operation in Ukraine continues, today, Tuesday, with units of the Russian army Trying to establish complete control over the Ukrainian regions And striking the positions of the forces, while Kyiv continues to Progress to regain their landsas well as in rallying Western support against the Russian bear.
In the latest field developments, the correspondent of Al-Arabiya and Al-Hadath reported that a Russian weapons depot exploded in Kherson at dawn, while the Russian Federal Security reported the arrest of 9 Ukrainians who planned attacks in Kherson.
The Ukrainian forces told Al-Arabiya that Russia is incurring heavy losses inside Ukrainian territory, noting that Moscow is strengthening its forces in Kherson with a combat battalion from Chechnya. The Ukrainian forces added to Al-Arabiya that the Russian forces are carrying out arbitrary measures among the population in Zaporizhia.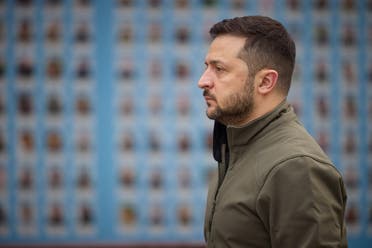 Volodymyr Zelensky
This comes as Ukrainian President Volodymyr Zelensky demanded to push Russia into real negotiations, stressing that the Russian army is suffering heavy losses on the Donetsk front, and that its forces are advancing in some areas of the east and south, and are pushing what he called the "invaders" to retreat.
Zelensky added: "In general, our forces at the front are in a state of active defense… and in some areas of the east and south we are gradually pushing the enemy back step by step… and we are moving forward."
On the other hand, Russian President Vladimir Putin announced that 50 thousand personnel in combat unitsin addition to tens of thousands of conscripts who have not yet taken part in hostilities in Ukraine.
"Now we have about 50 thousand personnel in combat units, while the rest of the conscripts have not yet taken part in hostilities," Putin said. "The number of conscripts in the special military operation has reached Approximately 80,000 personnel and the rest are in the training areasWe must pay attention to them wherever they are."
The Russian Defense Ministry took a rare step on Monday, denying reports that a marine unit had suffered heavy losses in life and equipment in a futile attack in eastern Ukraine.
The ministry's response came to what Russian military bloggers said was an open letter from the 155th Brigade of the Pacific Fleet, to the effect that the brigade was complaining of being involved in a "mysterious" attack on Ukrainian forces southwest of Donetsk.
The report was published by Gray Zone, a popular military blog.
Russia's official media agency quoted the Defense Ministry's statement as rejecting the bloggers' assertions that the Marine Corps unit had suffered "heavy and pointless losses in life and equipment."
The agency also quoted the ministry that, on the contrary, within the past ten days, the unit advanced five kilometers into Ukrainian defensive positions.
The ministry privately denied that the brigade's commanders showed incompetence.