Confirmed the former Russian president and deputy Security Council President Dmitry Medvedev, Today, Sunday, that his country is intensifying the production of "the most powerful means of destruction," hinting at its use against the West.
Medvedev said: "Our enemy is not present in the trenches only in Kiev Governorate in Malorossia (which is an administrative territorial entity in the former Russian Empire).. It is also present in Europe, North America, Japan, Australia, New Zealand and others."
"For this reason, we are intensifying the production of the most powerful means of destruction, including those based on new principles," he added, in a post he posted this morning on his Telegram account.
The Russian official did not elaborate on these new principles, but they seem to refer to new generations of hypersonic weapons that Moscow is proud of actively developing in recent years.
The specter of nuclear war returned after the start of the war in Ukraine in February, underlining the erosion of the global security architecture established during the Cold War.
Russia's military setbacks in recent months have raised concerns that Moscow is considering using its nuclear arsenal to change the field situation.
However, Russian President Vladimir Putin stressed this week that nuclear weapons are a "defence" intended to launch a "retaliatory strike" if his country is targeted with this type of weapon.
Friday also raised the possibility that Russia would amend its military doctrine by adopting the principle of a preemptive strike to disarm the enemy.
Britain: Peace talks should not be exploited
In another context, British Foreign Secretary James Cleverly said on Sunday that any peace talks in Ukraine should not be just a cover for Russia rearming itself, adding that he saw no indications that Moscow will enter into negotiations with good intentions.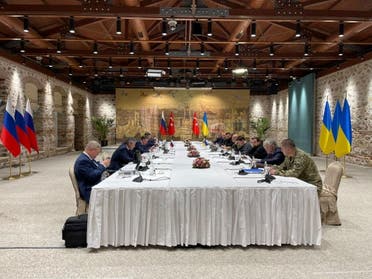 One of the last rounds of negotiations between the Russians and the Ukrainians in Istanbul last March
Cleverly added that Britain wanted to see peace talks take place "as soon as possible", but he reiterated that it was Ukraine that should set the parameters for any negotiations that took place.
He said in an interview with the British "Sky News" channel: "Any negotiations need to be real, they need to be meaningful. They cannot be just a cover for a Russian rearmament and more troop recruitment."
He continued, "I don't really see any indications from the Russian side that give me confidence that Vladimir Putin will enter those talks with good intentions. The style of the statements in general is still very confrontational."