Russian President Vladimir Putin said Friday that civilians in Kherson in southern Ukraine "should be removed" from the "most dangerous" combat zones, as Moscow faces a Ukrainian counter-attack.
"Those who… Currently living in Kherson They should be kept away from the most dangerous combat zones."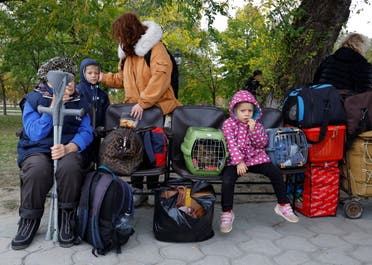 Evacuation of Kherson residents
In a related context, Putin pledged to help "all refugees" from the Kharkiv region who fled to Russia after Ukrainian counterattack.
On the other hand, the Russian President confirmed that 318,000 people have been mobilized to serve in the armed forces, of whom 49,000 are performing combat missions, saying that "the flow of volunteers to the Russian Armed Forces does not stop, and therefore the number of those mobilized has already exceeded 300,000."
On September 21, Putin announced a "partial mobilization" as his country's forces suffered a series of military setbacks in Ukraine. Russian Defense Minister Sergei Shoigu said the move would see 300,000 reservists call up for service.
Today, Putin also signed a law allowing the recruitment of perpetrators of serious crimes. This law excludes those convicted of pedophilia, treason, espionage, or terrorism.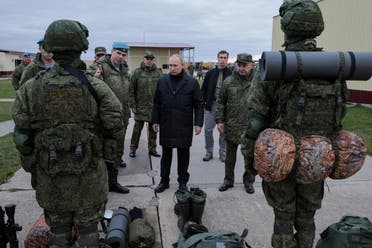 Putin during a visit last month to a military training center
The Kremlin said Thursday that Putin had ordered a one-time payment of 195,000 rubles ($3,200) to contract soldiers and those called up to fight in Ukraine.
Moscow said last week that the "partial mobilization" campaign of some 300,000 reservists had ended, but acknowledged it had problems. More than 2,000 people have been arrested in protests amid public discontent over men being called into combat even though they should be excused on medical grounds, as well as for their lack of any military experience.
In a decree published on the Kremlin's website yesterday, Putin said the amount was intended to "Take additional measures of social support" For contract soldiers who have been called up, without going into other details.
The minimum monthly wage offered to contract soldiers is 160,000 rubles ($2,700), nearly three times the average wage in Russia.