The Ukrainian State Electricity Corporation announced today, Saturday, Regular and scheduled cut-off of the electrical currentIn Kyiv and seven other regions of the country, in the wake of Russian strikes on energy infrastructure.
This step comes at a time when the Russian forces continue to bombard Ukrainian cities and villages with missiles and drones, causing damage to power stations, water supplies and other civilian targets. A fierce war is approaching nine months.
The planned power outages will occur in the capital and the greater Kyiv region, as well as several surrounding areas – Chernihiv, Cherkasy, Zhytomyr, Sumy, Poltava and Kharkiv, Ukrinyergo, the sole operator of high-voltage transmission lines in Ukraine, said in an online statement today.
The statement said that power outages for "certain categories of consumers" will occur daily "according to a specific schedule set by the distribution network operators for each region." The outages are expected to last six hours or more each day.
Ukraine has been suffering from blackouts and disrupted water supplies since Russia began launching a barrage of missiles and drones on the country's energy infrastructure last month.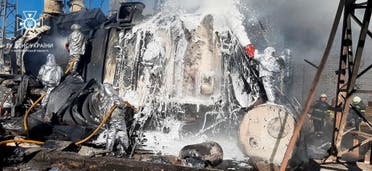 Fire put out at a Ukrainian power plant that was bombed by Russia last month
Moscow said these attacks came In response to the Ukrainian attacks on Crimea, The area annexed by Russia in 2014. Ukraine has denied the allegations.
Meanwhile, the Russian bombing of the Ukrainian regions continued until the early hours of Saturday.
The governor of Dnipropetrovsk, Valentin Reznichenko, said on Telegram that about 40 shells were fired during the night on the city of Nikopol. Russian forces targeted the city and its surroundings with heavy artillery. The official said that the raid led to the outbreak of two fires and damaged more than 12 residential buildings and facilities, as well as a gas pipeline.
Elsewhere in the region, Ukrainian forces shot down a drone and another missile, Reznichenko said.
For his part, the governor of the Mykolaiv state, Vitaly Kim, said via Telegram that the night bombing of rural areas led to the destruction of many homes in the southern Mykolaiv region, but no casualties were reported.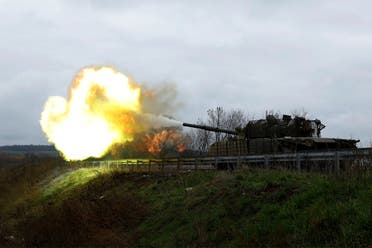 The Ukrainian army on the frontlines in Bakhmut
Russian forces also fired missiles at the Zaporozhye region in the southeast of the country, which was annexed by Moscow. The regional governor, Oleksandr Staruch, stated that Russian forces launched an attack shortly after midnight that damaged the buildings of three companies, as well as a number of cars.
In the Donetsk region in eastern Ukraine, which was also annexed by Russia, eight cities and villages, including Bakhmut, Avdiivka and Burkovsk, were subjected to Russian bombardment.
According to the Ukrainian presidency, at least three civilians were killed and eight others were injured during the past 24 hours in the Russian bombing of nine Ukrainian regions, in which drones, missiles and heavy artillery were used.