The Algerian club, ES Setif, announced, on Sunday evening, the termination of the contract of its Egyptian coach, Hossam El Badry, by mutual consent, 4 months after he assumed responsibility for training the team, last July.
And ES Setif issued an official statement, in which it said: "The management of ES Setif Club announces that it has reached an agreement with the Egyptian coach Hossam El Badry, to end the connection between the two parties in an amicable framework, and the matter includes members of its staff as well."
He added, "The administration extends its sincere thanks to the coach and the staff members who worked with him in the club, for everything that was accomplished with the team during his time at the club, and wishes him success in his next career."
He concluded, "As the club's supporters know, the announcement of the new coach who will succeed Hossam El-Badri will take place in the next few days."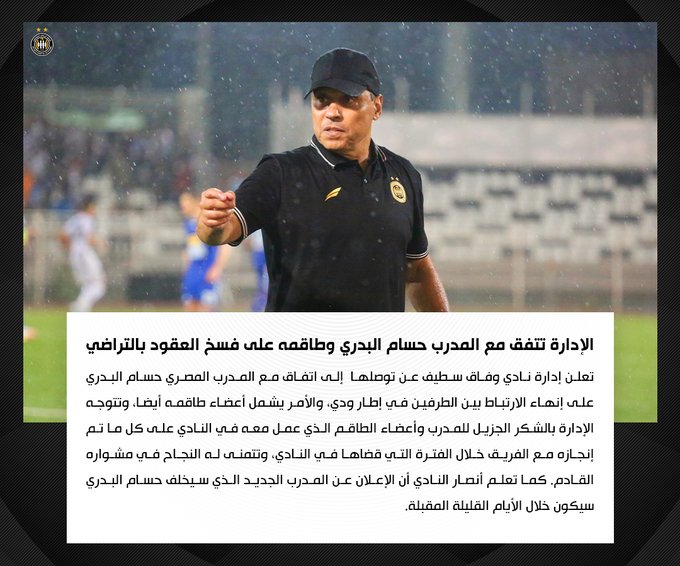 ES Setif statement
Hossam El-Badri, the coach of the Algerian team, ES Setif, had informed the club's management of his departure from his position after the end of the last two rounds before the international break, so that the Algerian club council could contract with a new coach.
The financial crisis escalated inside the Algerian club, ES Setif, and the administration's attempts to provide the necessary financial liquidity to pay the players' dues during the last period failed, which prompted the players to strike and officially refrain from attending training, which negatively affected the work of the technical staff led by Hossam El Badry.
.