North Korean leader Kim Jong Un vowed that Pyongyang's response would be firm and to use the atomic bomb in the event of a nuclear attack against his country, according to the official North Korean News Agency, Saturday.
The agency quoted Kim as saying that Pyongyang "will resolutely and with nuclear weapons respond to nuclear weapons, and to an all-out confrontation with a merciless confrontation."
The agency indicated that Kim personally supervised the missile launch conducted by North Korea on Friday.
Since Kim announced in September that North Korea had formally established a policy that would make its nuclear status "irreversible", Washington has stepped up regional security cooperation, including by conducting joint military exercises, and is looking for ways to enhance the protection it provides to Seoul and Tokyo.
North Korea's official KCNA news agency reported that Kim criticized what he called the "war of aggression drills" and said that if the United States continues to make threats against his country, Pyongyang will "resolutely respond to nuclear weapons with nuclear weapons and to an all-out confrontation with a merciless all-out confrontation."
KCNA reported that Kim attended the missile launch "with his beloved daughter and wife." Pictures released by state media showed a beaming Kim walking in front of a giant rocket, accompanied by a girl wearing a jacket and red shoes.
Experts said it was very rare for Kim's children to be mentioned by state media, and this could be the first official confirmation of his daughter's existence.
Friday's launch of the new-class Hwasong-17 missile "clearly demonstrated the reliability of the new major strategic weapon system," KCNA said.
"Kim Jong Un said he came to confirm once again that the DPRK's nuclear forces have reached a new maximum capacity that can be relied upon to contain any nuclear threat," she added, using North Korea's official name.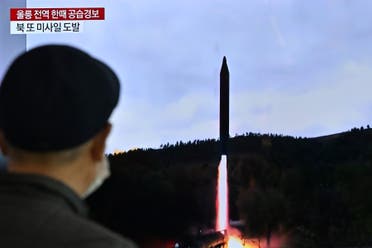 North Korea's missile tests
Security Council discuss Monday missile tests of North Korea
And according to the agenda of the UN Security Council, it will hold a meeting next Monday to discuss the North Korean file, after that Pyongyang conducted a new ballistic missile test Intercontinental, Fri.
A senior US administration official said earlier that North Korea's latest missile test was on a "long-range missile that can hit many countries," adding that the United Nations Security Council should meet to discuss the matter.
For its part, Japan asked the UN Security Council to hold an emergency meeting on North Korea's missile launch.
In the latest condemnation, UN Secretary-General Antonio Guterres strongly criticized North Korea's launch of a ballistic missile, reiterating his call for Pyongyang to "immediately cease any further provocative steps," according to his deputy spokesman Farhan Haq.
Haq added that Guterres also called on North Korea to comply with Security Council resolutions banning ballistic missile launches, and to take "immediately steps to resume dialogue leading to sustainable peace and the complete and verifiable denuclearization of the Korean peninsula."