determined Nomura Capital Corporation7 currencies of emerging economies facing the risk of a currency crisis, on top of which was the Egyptian pound.
Japan's Nomura Bank believes that Egypt is the country most vulnerable to a currency crisis among emerging markets in the next 12 months, according to the bank's early warning model for emerging market exchange rate crises, known as Damocles.
The price of the dollar in Egypt continues to penetrate new levels in the Central Bank
The ranking of the countries most exposed to a currency crisis came: Egypt, Romania, Sri Lanka, Turkey, the Czech Republic, Pakistan and Hungary.
A bank report, seen by Al Arabiya.net, indicated that it is a difficult time for emerging markets. Most of them have barely recovered from the pandemic, but they are now facing many pressures: high inflation, negative real interest rates, limited fiscal space, a weak balance of payments, and declining foreign currency reserves.
"Looking ahead, the looming economic downturn and further rate hikes by the US Federal Reserve could continue to challenge emerging markets," the bank said.
Nomura created the Damocles model for early warning of exchange rate crises in emerging markets, which is based on 6 indicators, including: foreign exchange reserves, the volume of short-term external debt, its ratio to exports, the ability of reserves to face short-term debt, and the rate of change in foreign investment. direct, and others.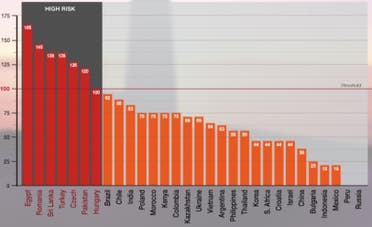 Damocles index
And if the Damocles index exceeds the level of 100, then this means, from the bank's point of view, that the country is exposed to a crisis in the exchange rate in the next 12 months by 64%. The model was tested 61 times for a sample of 32 countries, with data dating back 26 years.
read more: The black market for the dollar in Egypt is disappearing at this time!
In a research note published by Nomura on Wednesday, Egypt has far exceeded the risk level, as it reached 164 on the Damocles index. Although the currencies of Egypt, Sri Lanka, Turkey and Pakistan have depreciated sharply in the past 12 months, Damocles notes that they are not yet out of danger due to still weak economic fundamentals including high inflation.
Compared to the last update in May 2022, Damocles scores increased in 22 countries, but decreased in only 3 countries, with the largest increases in the Czech Republic and Brazil.
The combined Damocles score for 32 emerging market countries increased sharply to 2,234 from 1,744 in Nomura's latest update in May 2022. This is the highest combined score since July 1999 and not too far from the peak of 2,692 during the height of the Asian crisis, which is a warning sign. The bad news is that risks are broadly increasing in emerging market currencies.
"An important lesson learned from the large number of past crises is that the risk premium does not follow a monotonous process, but rather increases exponentially with increasing risk; instead, investors' perceptions of risk seem to evolve in a binary or unpredictable fashion," Nomura wrote in its latest update. In other words, repricing the EM risk premium can be very sudden and self-fulfilling, which is why early warning models like Damocles can be useful."