The father of Ashraf Hakimi, the star of the Moroccan national team, revealed the scenes of his son's refusal to represent the Spanish national team and his preference to play with Morocco. He also talked about the confrontation of the two teams in the price of the 2022 World Cup final, indicating that he was not happy with Morocco's victory over Spain.
Hakimi and his companions will face a fateful confrontation on Wednesday with France in the World Cup semi-finals, and the winner will meet Argentina in the final on Sunday.
Hassan Hakimi, the player's father, told Radio "Cadena Ser": I went to Spain in 1989, everyone told me that I would be able to work and earn money there, but I did not find that. Home by doing housecleaning.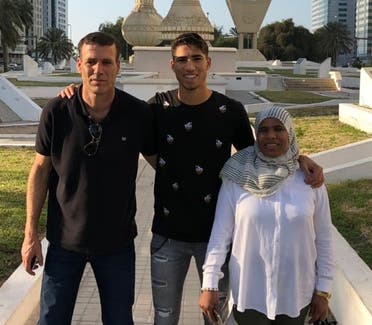 Hakimi with his father and mother
He continued: When Hakimi was born, we moved to Getafe. From an early age, I took him to an academy near our house. There, Atletico Madrid scouts saw him. They wanted to include him, but we had an appointment next week with Real Madrid. I preferred to wait and move him to Real Madrid.
Regarding Ashraf's preference for the Moroccan national team, the father said: He went to the Spain national under-19 camp, and as soon as he returned he told me I did not want to play there again, he did not tell me his reasons and I used to give him full freedom, thank Spain for everything but I preferred him to play with Morocco where Its origins and roots go down.
He commented on the meeting of the two teams at the price of the World Cup final, saying: I was not happy when we beat Spain. I think the better side deserves to win, this is the essence of football.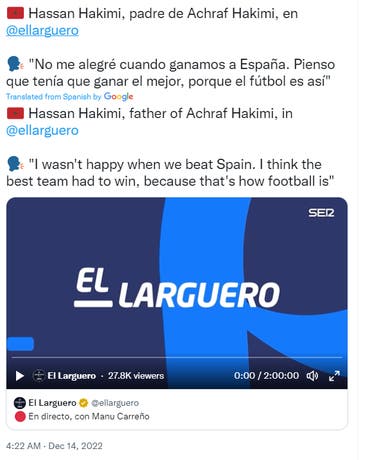 He concluded his wishes for Ashraf and his companions, saying: Yes, I dream that Morocco will win the World Cup, not only for Ashraf but for everyone. It is the dream of an entire country, even those who do not follow football now pray for Morocco to win, what a joy.