led takeover Elon Musk Twitter has fueled a partisan showdown in Washington, where Democrats have raised concerns about the platform's security, and Republicans have responded that the criticism is a thinly veiled attempt to eliminate conservative voices on the site.
Democrats, including US President Joe Biden, have focused on Musk's ownership of Twitter recently. Some Democrats say it could jeopardize the platform's ability to secure the personal data of its users.
Republicans, including Rep. Kevin McCarthy, a potential House speaker next year, have said Democrats are going after Musk because of his willingness to give conservatives a voice on the podium. Musk recently restored former President Donald Trump's Twitter account.
"Elon's quest for free speech is a direct threat to the Democratic Party and its allies in the old media," McCarthy, the House Minority Leader, said in a statement to the Wall Street Journal. "And while Democrats will attack any effort to give individual Americans a stronger voice, Republicans will be vigilant against collusion." between Big Tech and this administration that aims to shut down free speech."
According to the "Wall Street Journal," the clash could herald more polarization around the Internet and the government's role in regulating it. In recent years, calls have mounted for Congress to improve privacy protections, to ease market dominance by tech giants, and to update the law that protects large internet companies from liability for third-party content. Democrats and Republicans have often worked closely on some of these proposals, but the divisions have been building for years.
Some Democrats contend that Trump's 2016 election was helped by improper outside interference online, notably by spreading fake news on Facebook.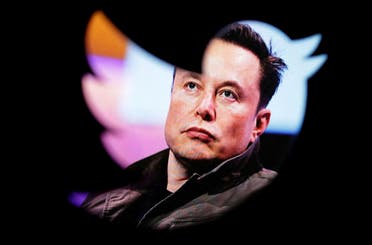 Elon Musk and the Twitter logo (Reuters)
Republican concerns
For their part, Republicans have long raised concerns that several social media platforms, including Twitter, Facebook, Google and YouTube, have unfairly suppressed conservative views, which the companies have generally denied.
Some conservatives were more upset about former President Trump being banned from Twitter and other social media platforms after the January 6, 2021 attack on the US Capitol by his followers.
This has helped in the spread of new social media platforms with conservative leanings, including former President Trump's Truth Social.
More recently, Republicans have focused on what they see as collusion between Democrats and social media platforms over issues such as coronavirus information.
In the latest development, the Republican attorneys general for Louisiana and Missouri said on Tuesday they plan to fire Dr. Anthony Fauci, Biden's chief medical adviser and the government's top infectious disease official, in connection with their civil lawsuit in which they alleged the Biden administration colluded with social media companies to censor people. Comments on Corona and other topics.
White House press secretary Karen Jean-Pierre said recently that the administration remains committed to combating disinformation that threatens security and alleged suggestions that the administration secretly colluded to censor social media posts.
Democratic officials have criticized Musk on a range of issues. Some have cited his financial ties to China, where the automaker Tesla has extensive operations there, as well as minority ownership stakes in Twitter owned by businessmen outside America.
"I think Elon Musk's cooperation and/or technical relationships with other countries are worth considering," Biden said at a recent press conference.
The Democratic-led Federal Trade Commission said it was concerned about Twitter's ability to meet its obligations under a $150 million settlement it reached with the company after federal lawyers alleged it collected phone numbers and email addresses for account security measures and then used that information in its advertising tools.
In a November 17 letter to FTC Chair Lena Khan, seven Democratic senators called on the agency to investigate any breach of the Twitter consent decree.
The letter said Musk "took troubling steps that undermined the integrity and security of the platform, and announced new features despite clear warnings that these changes could be misused for serious fraud and impersonation."