The designated authorities of Russia confirmed, on Friday, not to impose a curfew in the city of Kherson in southern Ukraine, minutes after it was announced.
Kirill Strimosov, deputy head of the Russian occupation authorities in Kherson, had announced on Telegram, "a continuous curfew in the city of Kherson so that we can defend our city." Then he deleted the video clip after a few minutes and replaced it with a similar but modified video that did not mention this curfew, without explaining the reasons for this modification. He called on as many residents as possible to leave the city.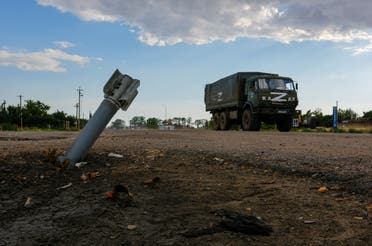 From Kherson – Reuters
Earlier in the day, Russian President Vladimir Putin stressed that civilians in Kherson in southern Ukraine "should be removed" from the "most dangerous" combat zones, where Moscow faces a counter-attack by Ukrainian forces.
"Those who are currently living in Kherson should be removed from the most dangerous combat zones," Putin said during a brief ceremony marking Russia's Day of National Unity on Moscow's Red Square.
Kherson is one of four Ukrainian regions announced by Putin at a ceremony in the Kremlin in September. Officials installed by Russia in Kherson have called on civilians to leave the western part of the city, the part of which Ukrainian forces have regained control of some of the territory in the past few weeks.
On Thursday, Kirill Strimosov, deputy governor of Kherson appointed by Russia, issued several video appeals to citizens calling on them to leave the part of Kherson on the western bank of the Dnipro River. He said it was likely that Russian forces would leave the western bank of the river for Ukraine soon.
The Kherson region, most of which fell under Russian control shortly after the start of the military campaign against Ukraine on February 24, is of strategic importance, as it controls the land route to Crimea and a large part of its water supply. Russia annexed Crimea in 2014.
Kherson is still the only regional capital that Russia has imposed its control over since February.
Ukraine announced a counterattack in Kherson in August, and drove Russian forces from much of the north of the region in September.
General Sergei Sorovikin, commander of Russian forces in Ukraine, had previously indicated the difficult situation in Kherson.