Lionel Messi, the legend of the Argentine national team, who was recently crowned with the 2022 World Cup, chose isolation and stayed in his home after the hustle and bustle that he had experienced 3 days since the victory over France on Sunday.
Argentina defeated France on penalties in the World Cup final on Sunday to claim their first World Cup title in 36 years.
Lionel Messi decided to spend the Christmas period retiring from the public and staying at his home, as he was seen by the media reported by the "Daily Mail" in his hometown of Rosario, staying with his home and among his family members.
The Argentine national team players began their World Cup celebrations in the streets of Doha before flying to Buenos Aires and spending nearly a full day on the back of an open-top bus, while the Argentine capital's roads were filled with nearly 4 million people chanting Messi's name.
The capital's celebrations witnessed the difficulty of the bus reaching the Obelisk Obelisk, forcing the players to leave the bus by helicopter, after which Messi headed to Funes, 15 km from Rosario, where he intends to spend the Christmas vacation before returning to the training of the French club Paris Saint-Germain.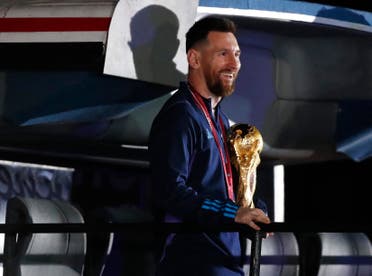 Messi was also greeted by the masses upon his arrival in Rosario, and reports were published that the city's mayor was dedicating a celebration to the three sons of Rosario, Messi, Di Maria and Angel Correa, but nothing happened, as other reports said that Messi spent Wednesday at the home of former national team defender Gabriel Heinze.