Kylian Mbappe and Achraf Hakimi will put friendship aside when France take on Morocco in the World Cup semi-finals on Wednesday at home, and both may be true to an earlier promise.
And last January, during a visit to Qatar with Paris Saint-Germain, Mbappe said jokingly in a video clip: If we play against Morocco, I will tear my friend apart. "I'll kick him," Hakimi responded with a smile.
And given the presence of Mbappe on the left side of the French attack, the French star will face right-back Hakimi, with whom he has had a wonderful relationship since the Moroccan player joined Paris Saint-Germain from Inter Milan in 2021.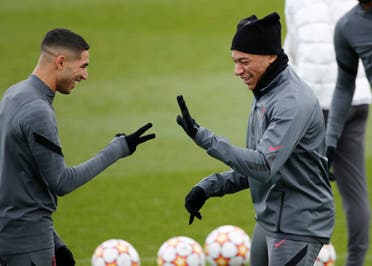 The duo sits together during travel trips, plays video games and spends holidays together.
And while Morocco will not develop a specific plan to contain the danger of Mbappe, as England did when Kyle Walker kept chasing him in a 2-1 loss in the quarter-finals, coach Walid Regragui trusts Hakimi.
"I have no doubt that Hakimi will be at his best to beat his friend," Rekragui said in a press conference on Tuesday.
Mbappe scored five goals and assisted two goals in the World Cup, while Hakimi played a prominent role in helping Morocco concede just 10 shots on goal in his five matches.
Hakimi celebrated by hitting the decisive penalty shootout against Spain in the round of 16, imitating the penguin, a celebration in which Mbappe and Sergio Ramos participated in Paris Saint-Germain.
Mbappe, who also visited Hakimi at the Moroccan national team's hotel in Doha during a rest day, was one of the first to congratulate Hakimi on Morocco's qualification to the quarter-finals.
France captain Hugo Lloris is confident that the strong friendship between Mbappe and Hakimi will stop temporarily at Al Bayt Stadium.
And he told a press conference: It is the heat of the match that will impose that. Even if you are friends off the field, the World Cup will keep you apart.