while you live Mahabad city, northwest of Iran A state of boiling, after living a hot night yesterday, after an intense security and military attack against the protesters, who went out to participate in the funeral of an activist who was killed by security bullets.
A video circulating on social media showed Iranian marches of a number of protesters in the city of Mahabad.
On the ground, new demonstrations broke out in some neighborhoods of the city of Mahabad this evening, by the people chanting "Death to the dictator", and the people of the city set fire to the streets, chanting: Death to Khamenei.
Activists reported that the security forces opened fire on protesters in the city.
On the other hand, protesters in "Mahabad" built brick barriers to protect them from the bullets of the repressive forces and to prevent the progress of security forces.
Likewise, the "Iran International" website reported that live bullets were fired at protesters in the city of Marivan, in western Kurdistan.
In addition, many activists on social media called on the Iranian people to help the people of Mahabad and Sanandaj, the capital of the Kurdistan region.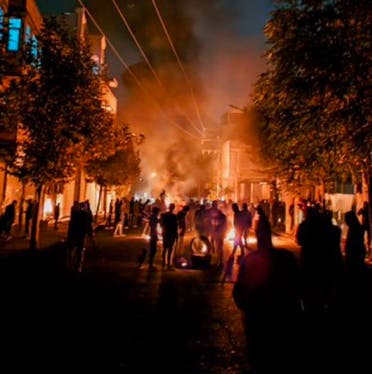 From the demonstrations in Mahabad yesterday
This comes as the broad movement that erupted following the killing of the young woman, Mahsa Amini, continues in mid-September, after she was arrested by the religious police despite the violent repression by the security forces.
Her death has since ignited anger over several issues, including the restrictions imposed on personal freedoms and strict rules regarding women's clothing, as well as the living and economic crisis that Iranians suffer from, not to mention the strict laws imposed by the regime and its political and religious composition in general.
Meanwhile, the security forces violently confronted the protesters, killing dozens of them, and arresting hundreds.
The Human Rights Activists News Agency (Hrana) announced that about 400 demonstrators were killed, including 47 minors.
At least 14,170 people, including 392 students, were arrested in those protests that took place in 136 cities and towns and 134 universities.