With the continuation of the controversy locally and internationally about Lockerbie case reopened. Which ruled the relations of Libya and the West during the reign of the late leader Muammar Gaddafi, the owner of the Swiss telecommunications company "Mebo", Edwin Boullier, revealed new data and details that are completely different from the findings of the American and British investigators, which may lead to the acquittal of Libya and the involvement of other parties.
Boullier broke his silence after an appearance Former Libyan intelligence officer Abu Ajila Masoud At the beginning of this week, he was brought before the US court on charges of manufacturing the bomb used in the Lockerbie bombing, after he was handed over from Libya.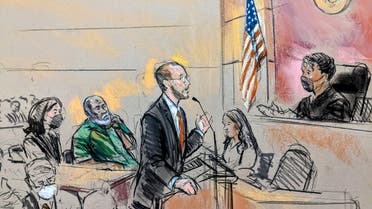 A drawing of the trial session of Abu-Ageila Masoud in America
In a statement he posted on his Facebook page, Boullier called on the US judiciary to invite him as a witness in favor of Libya in the next session of Libyan citizen Abu Ajila Masoud.
Pollier said that the evidence of crucial software and hardware could be proven incorrect in the investigations, explaining that the "MST-13" chip used in the bombing was tampered with, and this evidence was not proven until after the trial.
Pollier added that his company advises the US judiciary to invite more witnesses for questioning, from among officers and experts from the Scottish Police, based on a criminal complaint against it, and it is now under consideration in Scotland since November 11, 2020.
He stressed that "the alleged bombing chip appeared for the first time in Frankfurt, and for this reason the director of the station, Al-Amin Khalifa Effhaima, was acquitted."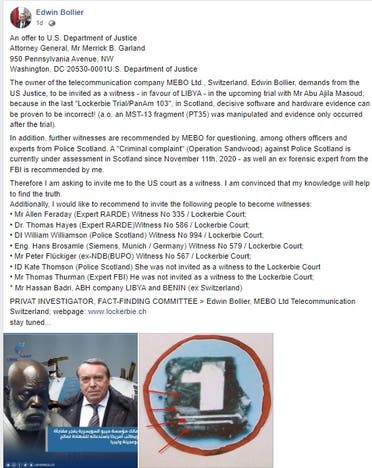 Statement by Edwin Boullier
The owner of the "Mebo" company added that the Libyan Abdel Basset al-Megrahi It has nothing to do with the Lockerbie tragedy. And that he did not buy clothes and an umbrella from shopkeeper Anthony Gucci in the "Mary's House" store, and there was no "Samsonite" bag belonging to any passenger on the flight departing from Malta to Frankfurt.
He explained that "this bag can be allocated in Frankfurt to any passenger, and by investigating the baggage loading documents, this conclusion was reached as well, and despite this, it was claimed that the "Samsonite" bag contained an explosive canister that came out of Malta Airport and brought down the plane over Lockerbie, while no one was raised. Objection in court as to why the baggage was handed over."
This information, which Pollier mentioned, appears to differ with the findings of the American and British investigators, as a result of which the Muammar Gaddafi regime was accused of masterminding the bombing of the plane and condemning Libya and imposing an economic and political blockade on it, in addition to paying compensation of $ 2.7 billion to the families of the victims.