In what The demonstrations are still going on in IranEspecially in the Kurdish areas in the northwest of the country, after the movement erupted since last September following the killing of the young woman, Mahsa Amini, Mahmoud Maradkhani, the brother of civil activist Farida Maradkhani and the niece of Supreme Leader Ali Khamenei, announced that she had been arrested.
He said, in a brief tweet yesterday evening via his Twitter account, that his sister was arrested and taken to prison, after she was reviewed by the "Evin" court in Tehran, without giving any further details.
Support campaign for prisoners
On the other hand, activists considered that "the tension and anxiety of any opposition voice began to disturb the authority in the country."
While others believed that she was arrested in order to put pressure on her mother and prevent her from revealing what she knows about her brother (Khamenei).
Farida was also arrested last January, after she recited poetry praising Farah Pahlavi, wife of the former Shah of Iran.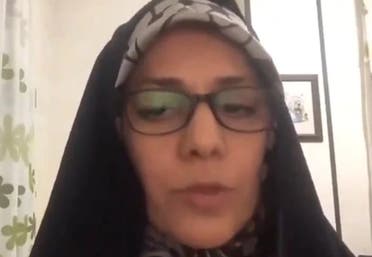 Farida Maradkhani (Photo circulated on Twitter)
However, her arrest this time came months after she launched a campaign to support political prisoners, according to Radio Farda.
Her father died under torture
It is noteworthy that Farida Maradkhani is Daughter of Ali Moradkhani, known as "Sheikh Ali Tehrani"Badri Hosseini, the husband of the Iranian guide's sister, is one of the clerics who oppose the former Pahlavi regime.
He is also a well-known Iranian writer and preacher who supported the Khomeinist revolution in 1979, and represented Khorasan Province in the Council of Constitutional Experts.
But he later defected and opposed the regime, so he spent months in prison in Mashhad.
After his release from prison in April 1984, he secretly fled to Iraq, where he worked for years on the Iraqi Persian-speaking radio and television in Baghdad, and was participating in propaganda programs against the Iranian regime.
However, he returned to Iran in 1995 and was sentenced to 20 years in prison, only to announce in 2000 that he committed suicide inside the cell.
However, his family denied the news of his suicide, and his son, Mahmoud Maradkhani, confirmed that his father had died under torture!