Almost a year after the Russian military operation in Ukraine, former British Prime Minister Boris Johnson revealed, in a documentary, the details of a "very long and amazing conversation" he had with President Vladimir Putin last year, revealing that the Russian president "threatened him with death" before the start of the military operation. .
In his speech, Johnson made it clear that he had warned the master of the Kremlin against Western sanctions, according to a report published by the newspaper "The Telegraph". The Telegraph British.
Johnson revealed in the documentary, which will be broadcast by the British media today, Monday, that President Putin "threatened him in some way" before the start of the Russian military operation in Ukraine, and told him, "Boris .. I do not want to harm you, but with a missile, it will take one minute." ".
Talk about a period!
The information added that Putin responded to Johnson during the conversation, saying: "Boris, you are saying that Ukraine will not join NATO in the near future. What exactly is the time period being talked about?"
Johnson replied, "Well, it has no plans to join NATO in the foreseeable future. And you know that well."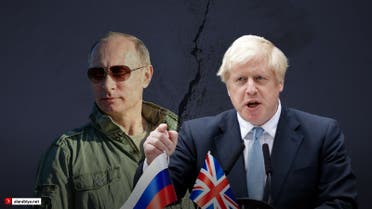 Johnson and Putin
"A complete disaster"
The former British official also stressed in the conversation with Putin that conducting the special military operation in Ukraine would be a "total disaster" and promised that London would support the Kyiv authorities.
Johnson believes that Ukraine's accession to NATO was unlikely and unlikely, due to the positions of Germany and France on this issue.
It is noteworthy that Russia had launched a military operation on the territory of its Ukrainian neighbor on February 20, in response to the latter's intention to enter NATO.
Since that time, Western countries have sided with the Ukraine, lavishing Kyiv with weapons and equipment, and have imposed harsh sanctions on Russia that have made it the most punished country in the world, surpassing Iran and North Korea.