Prince Harry revealed in the documentary episodes broadcast by "Netflix" about him and his wife, Megan Markle, that it was "terrifying" that his brother, Prince William, yelled at him during a meeting about the arrangements for the separation of Prince Harry and his family from the royal family.
Harry said: "It was terrifying for my brother to yell at me, saying things that simply weren't true, and my grandmother (the late Queen Elizabeth) just sitting there quietly."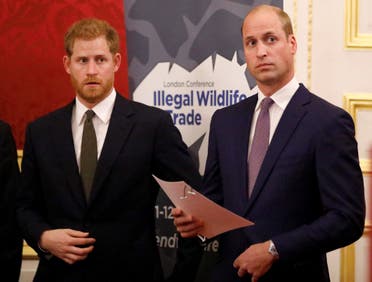 William and Harry
And he talked about offering a compromise agreement so that he and his wife, Megan, would have their own job, provided that at the same time they would do some work to support the queen, quoting the "New York Post".
Harry explained that during a family meeting to discuss options for separating from the royal family, "it became very clear that the offer was not up for discussion."
Prince Harry insisted he never shocked his late grandmother, Queen Elizabeth, with the sudden announcement that he and Meghan were leaving the royal family and moving to Canada, and stated that what happened next seemed like an attack on him.
The "Duke and Duchess of Sussex", which is the official title of Harry and Megan, stepped down from their royal duties in March 2020, saying that they wanted to create a new life in the United States, away from media harassment, which the couple explained threatened to destroy their psychological well-being.
The last three episodes of the documentary series of Prince Harry and his wife Megan will be broadcast Thursday on the "Netflix" platform, with more criticism of the British royal family expected.
In the first set of episodes broadcast last week, Harry and Megan launched fierce attacks on the media, saying that some of them were racist, but the members of the royal family themselves were relatively spared criticism during those episodes.
Trailers for the new episodes include some of the sharpest comments about members of the royal family, with Harry suggesting "institutional fraud" and saying unspecified people were "okay at lying to protect my brother" Prince William, who is now heir to the throne.