Iranian wrestling champion Malika Bilali, who is currently residing in Scotland, is benefiting from a "protection plan", the police announced, Friday, after she was subjected to threats accusing Bilali. Tehran directing it.
Malika Belali (22 years), a women's rights activist in Iran since she left the country a year ago, accuses the Iranian government of harassing and threatening her on social networks.
"Try to find where I live and the identity of the people I'm training with," she said in an interview broadcast by the BBC on Thursday.
She added, "But thanks to the Scottish Police (…) I live safely and train in a safe place," continuing "these threats make me stronger."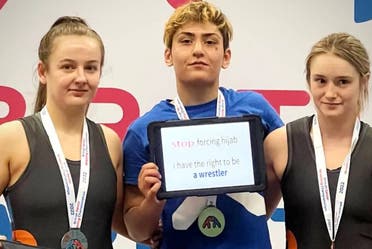 Iranian wrestler Malika Bilali – in the middle –
protection plan
A Scottish police spokesman confirmed to AFP that police had been informed of "online threats issued in July 2022", adding that "an investigation has been conducted and a protection plan put in place".
The Iranian embassy in London did not comment when asked about the matter.
Malika Belali, who won gold for Scotland in the British Wrestling Championship last June, used the victory to protest against Strict dress code which women are forced to follow in Iran.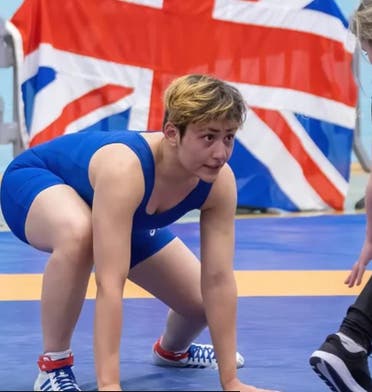 Malika Bilali
"End the compulsory veil"
During the medal ceremony, she held a banner that read, "End mandatory hijab" and "It's my right to be a wrestler."
Bilali had made these statements two months before the demonstrations in Iran since September 16, following the death of her whsa amini (22 years), days after she was arrested by the morality police for not adhering to strict dress codes.
In solidarity with the protesters, Bilali shaved her hair at a recent demonstration in Glasgow. The young woman immigrated to Scotland in November 2021 to advance her sporting career.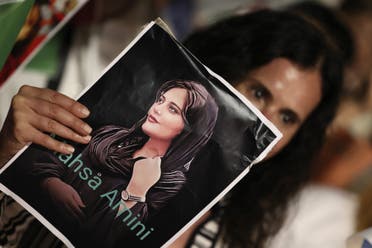 Iranian protests and a picture of Mahsa Amini (AFP)
Women's rights
Bilali, who was forced to wear the hijab since the age of five when she was living in Iran with her family, confirmed that her relatives have disavowed her since she publicly expressed her positions. She told the BBC how her family had long prevented her from fighting for her rights because she was a woman.
It is noteworthy that Iran has been witnessing protests in separate parts of the country for several weeks after the killing of the young woman, Mahsa Amini, who was arrested by the police for wearing a headscarf that the authorities considered "inappropriate."
Amini's death has since ignited anger over several issues, including restrictions on personal freedoms and strict rules regarding women's dress, as well as the living and economic crisis facing Iranians, not to mention the strict laws imposed by the regime and its political and religious makeup in general.