On Friday, Baloch leaders in Iran called for a referendum on the constitution.
called The religious leader of the Baloch in Iran, Mawlawi Abdul Hamid, The Iranian regime to hold a popular referendum under international supervision.
Abdel Hamid stressed that "demonstrators cannot be silenced with killing, imprisonment and beatings." Abdel Hamid also stressed that "the people who have been demonstrating in the streets for 50 days, the regime will not be able to force them to retreat."
In the field, protests broke out today in the Sistan-Baluchestan province in southeastern Iran, which witnessed weeks of unrest.
And according to what was shown by recorded clips on the Internet, people walked through the streets of the governorate, some of whom threw stones, amid the sound of gunfire in the background, and clouds of tear gas rose. Some protesters' clothes appeared to be stained with blood, while activists said some were killed.
For its part, the official IRNA news agency reported that protesters set fire to a police station in the city of Khash in Sistan-Baluchestan, and attacked the local governor's office.
and testify Sistan-Baluchestan Provincewhich is inhabited by a majority of Sunnis, has been going on demonstrations against the regime in Iran for several weeks.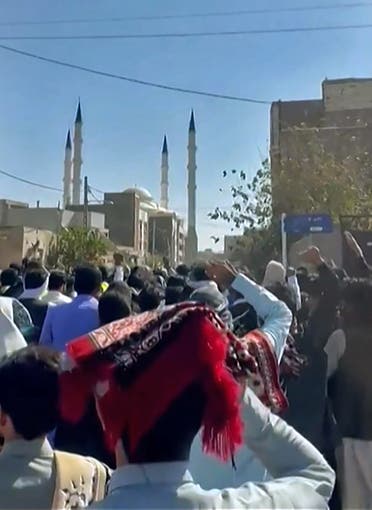 A demonstration against the regime in Zahedan, the capital of Sistan-Baluchestan, last month
was Dozens have been killed as a result of the intervention of the security forces During demonstrations in the city of Zahedan in the province on September 30, which was called "Bloody Friday".
Since September 16, protests have erupted across Iran following the death of 22-year-old Mahsa Amini, 3 days after she was arrested by the morality police, which monitors women's dress code.
The incident sparked widespread public anger in the political and media circles in Iran.
The demonstrations that rocked Iran for more than six weeks after the death of Mahsa Amini, represent one of the biggest challenges facing the country's clerical rulers since they seized power in the 1979 revolution.
At least 300 protesters have been killed, and 14,000 have been arrested since the unrest began, according to activists of the Human Rights Association in Iran, which is following up on the repression of demonstrators.