The Jordanian Public Security Directorate revealed the number of arrested persons acts of vandalism carried out by people, in protest against the increase in fuel prices at the beginning of this month.
The media spokesman for the Jordanian Public Security Directorate, Colonel Amer Al-Sartawi, said in a statement that Al-Arabiya.net received a copy of it that the security services dealt with riots in a number of regions of the Kingdom, where 44 people who participated in these acts were arrested in various regions. They will be referred to the competent authorities, in addition to those arrested in the previous days.
The riots receded
Colonel Al-Sartawi confirmed that there is a noticeable decline in the number of riots units from yesterday, especially in the southern governorates, indicating that there is a heavy security deployment in the governorates of the Kingdom to ensure the enforcement of the rule of law and maintain the security of citizens.
Colonel Al-Sartawi confirmed that the investigations into the death of Colonel Abdul-Razzaq Al-Dalabeh are continuing and will not stop until the perpetrator is arrested and handed over to the hands of justice to receive his deterrent punishment.
He pointed out that the security services will not hesitate to protect lives, honor and property, calling on everyone to adhere to and stay away from riot sites and not to participate in them.
A security officer was killed in Ma'an Governorate, southern Jordan, at the hands of what the Public Security Directorate described as "vandals", following riots in the governorate on Thursday night, after a series of protests that included blocking the international highway since Sunday before last.
And the PSD mourned The killing of Colonel Abdel-Razzaq Abdel-Hafez Al-DalabehDeputy Police Director of Ma'an Governorate, "as a result of being shot in the head area while dealing with riots that were being carried out by a group of vandals and outlaws in the Husseiniya area in Ma'an Governorate."
In another separate statement, the Jordanian General Security reported that an officer and a non-commissioned officer were wounded by gunshots in the Hussainiya area in Ma'an, southern Jordan, while security forces and reinforcements were deployed in the cities of Karak and Petra, southern Jordan.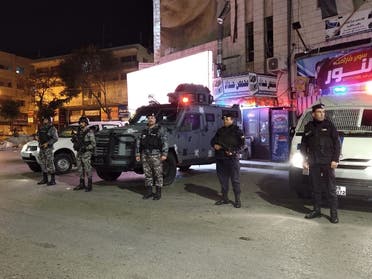 Jordan security