An Instagram and TikTok influencer who was previously accused of being part of a scam in which investors lost nearly £4m has started a new 'get-rich-quick' scheme.
As Gurvin Dyal, 23, tried again to attract people to invest, but this time in what he calls "e-commerce courses", as he appeared in his photos and videos with luxury cars, luxury hotels and on a plane, according to the British newspaper "Daily Mail" Saturday.
He also filmed himself, last weekend, driving a car covered in rose gold around London, garnering nearly 350,000 likes on TikTok.
Modest house for rent
He also boasted that his "success in business" had enabled him to move with his family into a five-bedroom detached house in an upmarket area of ​​Essex.
It turns out that Gurvin was living until recently with his mother and younger brother in a modest rented three-bed house on a busy road in Ilford, Essex, according to the Daily Mail.
Land registry records show that the house was owned by a woman living in Woodford Green, Essex, who bought it for £275,000 in 2007.
"I'd rather not say it."
But the young man contacted the British newspaper this week to try to promote the latest video he posted on Tik Tok, in which he appeared driving a McLaren car in central London while crowds of people raised their mobile phones to film it.
However, upon meeting the reporter, Gorvin refused to reveal where he and his family currently live, insisting that it is a detached five-bedroom home.
He also refused to disclose whether he rents or owns the property, saying, "I prefer not to disclose it."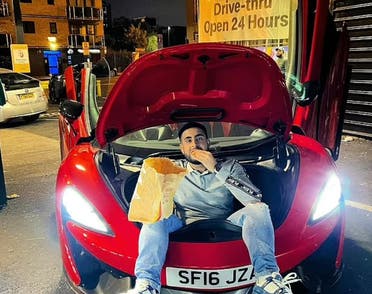 Gurvin Dyal (from the Daily Mail)
Dropshipping
He also added, "The main reason I moved is because I used to live on a main road and people could point me to my house. I want to keep that aspect of my life private now."
While he boasted of his "latest business venture," he "sold" people tips on how to make money from dropshipping, that is, marketing and selling products held and shipped by a third-party supplier.