In their first official appearance together, he walked out Amazon founder, Jeff BezosWith his girlfriend, the former American news anchor Lauren Sanchez In a television interview with "CNN", they exchanged feelings of love and affection, and talked about their relationship
The American journalist said, "We are wonderful colleagues, and we enjoy our time together," adding, "We love each other, and we always look at each other as one team."
In turn, the fourth richest man in the world described their relationship as "easy," and said, "We exchange positive energy, and we respect each other, so it is fun to work together."
Space travel
Bezos, 58, who is also the founder of the spaceflight company Blue Origin, said he hopes to make space travel available to everyone and believes that everyone who wants it should be able to.
For her part, Sanchez, 52, an Emmy Award-winning journalist, said she plans to travel to space in 2023 on a flight accompanied by "a big group of girls."
In addition, the founder of Amazon said: "I also learned how to fly the helicopter," which sparked Sanchez's laughter, adding that it is "a terrible plane when it's in the back seat … it's terrible."
In contrast, the former news anchor, a licensed pilot and founder of Black Ops Aviation, the first female-owned and operated aerial film production company, responded, "I realized that when I'm in the back seat of the helicopter while it's flying, I have to look out the window, just enjoy the views."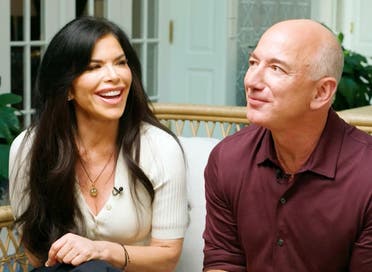 Jeff Bezos, with his girlfriend, Lauren Sanchez, during a CNN interview
Watching movies.. spending time with kids
The couple also talked about their weekends, admitting that Saturday nights consist of watching movies and spending time with their families.
"We can be kind of boring," said the American journalist, noting that this is normal. And she continued, "We have dinner with the children and these are always fun times. There are seven of us, so there is a lot of discussion and then we watch a movie by recommendation, so it takes a long time to find this movie."
Whereas, Bezos added, "We may spend more time selecting a movie than we need to watch it."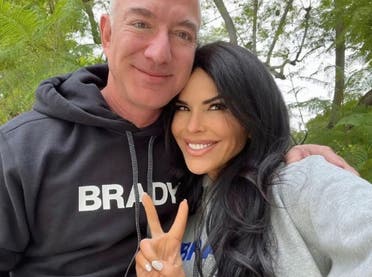 Jeff Bezos, with his girlfriend Lauren Sanchez – from her Instagram account
Plan to waive
In addition, Bezos revealed during the interview that he plans to give up most of his wealth during his life to confront climate change, admitting that he does not yet have a plan about that, indicating that he will take his time to do this task.
"It's not easy," the online retail giant continued. "Building Amazon wasn't easy. It took a lot of hard work."
The most expensive divorce in the world
It is mentioned that Jeff was separated from his wife Mackenzie After 25 years of marriage, after his affair with Sanchez was exposed.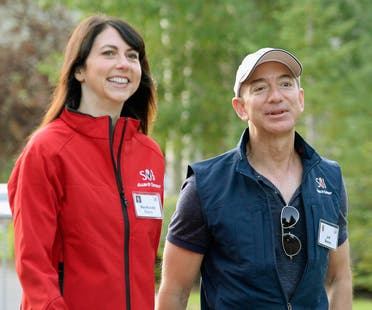 Jeff Bezos and his wife, MacKenzie
The richest couple in the world announced their divorce in a joint statement on Twitter in January 2019, following a scandal involving Bezos, after an American newspaper published scandalous pictures of him with his mistress during his marriage.
At that time, the deceived wife obtained approximately 4% of the capital of the giant shopping company, Amazon, which was estimated at about $ 36 billion, and was considered the most expensive divorce in the world.