Former Pakistani Prime Minister Imran Khan accused today, Friday, current Prime Minister Shahbaz Sharif, Interior Minister Rana Sanaullah and a senior army commander of planning a failed assassination attempt that resulted in his injury.
"These three decided to kill me," Khan told reporters in Lahore, in his first public appearance since he was hospitalized after Thursday's attack.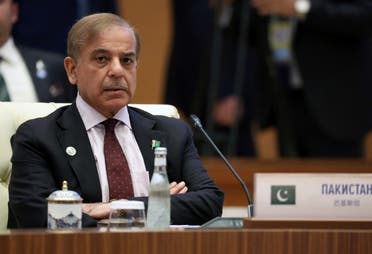 Current Pakistani Prime Minister Shahbaz Sharif
He said that two gunmen tried to assassinate him in the city of Wazirabad yesterday by firing on a protest march he was leading to the capital, Islamabad.
Khan, speaking in a live speech from a hospital in Lahore where he is receiving treatment, added that the attack killed one person and injured 11 others.
Seated in a wheelchair, his right leg cast in a plaster and his left leg bandaged, Khan spoke for more than an hour, criticizing the government and establishment he accuses of overthrowing him.
Khan added that his opponents wanted to accuse him of "defaming religion or violating the sanctity of the Prophet", then blaming an extremist for his killing.
Khan did not provide any evidence to support his claims. He told reporters, "I was shot in the leg. There were two men. If they had acted more consistently, I wouldn't have survived."
"One of them was arrested and described as a religious fanatic. He was not a religious fanatic, there was an elaborate plan behind it," he added.
Khan confirmed that he would resume the "long march" to the capital after recovering from his injuries.
"A bullet hit the upper part of my leg, a bullet passed near the main artery, and another stopped near it," he said, describing his survival as "a mercy from God." He concluded, "The day I recover, I will take to the street again."
Asad Omar, a senior leader in Khan's party, blamed the shooting on Prime Minister Shahbaz Sharif, the interior minister, and an army general without providing any evidence.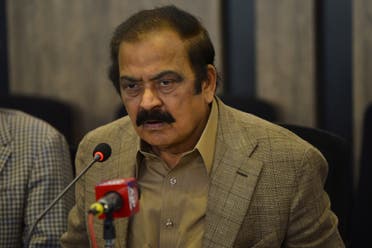 Pakistani Interior Minister Rana Sanaullah
The government described the allegations as unfounded, It said it had ordered a high-level investigation and that the attacker was under investigation.
Police are still questioning the alleged attacker, who appeared in a video saying that he Carry out the shooting and act alone.
The attack took place as the former cricket star turned politician was traveling in a large protest convoy of trucks and cars towards Islamabad. He and his team were seen in a video clip They quickly bow to the top of a car while shooting.